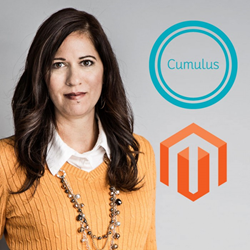 (PRWEB) April 07, 2015
Canto, a leading provider of digital asset management solutions, today announced that Leslie Weller, director of marketing, will speak at Imagine Commerce 2015, April 20-22, 2015 at Wynn Las Vegas.
Weller's breakout session, "Herding Your Digital Copyright Cats," will be held on Tuesday, April 21 from 4:15pm-4:45pm. The presentation will provide conference attendees with actionable information on Digital Rights Management (DRM) and how technologies, such as Digital Asset Management (DAM), support compliance with DRM policies. Weller will also discuss how DRM is highly relevant to Magento shop owners, focusing on the organizational risks of not creating and enforcing DRM policies.
"In today's digital-first world, marketers are investing a lot of resources to create, curate and distribute digital content," said Weller. "During the session, we'll focus on overcoming the challenges of effectively managing and appropriately using those digital resources, as well as tips and best practices for avoiding risk – which can be costly and substantial."
The presentation will offer practical advice for attendees to assess the current state of their DRM policies and the actions they can take today to make sure they're in compliance with copyright laws. Highlights of the discussion will also include:

Examples of how DAM supports DRM policies in a typical Magento shop scenario
Insight into how DAM can be used to create a full self-service, branded portal to enable shop owners to collaborate with external agencies, contractors, partners and distributors
Steps for using DAM to increase marketing team productivity and efficiency
Weller brings more than 15 years of experience with high tech marketing, and an emphasis in software and enterprise B2B solutions, to Canto. More information about her breakout session is available on the Imagine 2015 website. In addition, attendees can register for the conference at http://imagine2015.magento.com/. Conference proceedings can be followed on Twitter using the hashtag #ImagineCommerce.
About Imagine Commerce 2015
Imagine Commerce 2015 is the premier Magento and eBay Enterprise commerce conference. Now in its fifth year, this event brings together 2,400+ merchants, partners, developers and commerce experts from 40+ countries to network, exchange ideas and build relationships. Imagine Commerce 2015 offers an opportunity for senior executives, marketers, developers, merchandisers and ecommerce visionaries from leading merchants, web design agencies, system integrators and technology innovators to collaborate and share the latest inspirations, technologies, techniques, and strategies transforming commerce. For more information on attending Imagine Commerce 2015 please go to: http://imagine2015.magento.com/attendees.
About Canto
Canto is committed to innovation, with a focus on delivering digital asset management (DAM) software and services that solve customers' ongoing brand asset challenges. Founded in 1990, Canto is a DAM industry pioneer and leader with more than 2,500 customers worldwide. Canto's offerings include its flagship enterprise-class technology, Cumulus, which allows customers to efficiently secure and repurpose brand assets, and Flight, a cloud-based solution designed to address basic DAM needs. Supported by a global partner network, Canto is based in San Francisco (USA), Berlin and Giessen (Germany). For more information visit Canto.com.