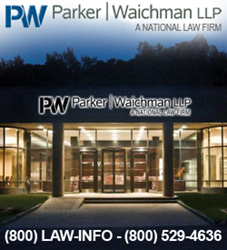 Our sympathies go out to the family of this 9/11 hero, who paid the ultimate price to help others
Port Washington, NY (PRWEB) April 09, 2015
Parker Waichman LLP, a national law firm that has spent many years fighting to ensure that the heroes of 9/11 are never forgotten, is saddened to learn of the death of a 9/11 hero. The New York Daily News reports that a special agent with the Bureau of Alcohol, Tobacco, Firearms and Explosives (ATF) is the first in the federal agency to die from cancer linked to the terrorist attacks. He and four other agents rushed to Ground Zero to look for survivors after Manhattan's Twin Towers fell. Physicians from the World Trade Center later determined that he and two of his colleagues developed cancer associated with exposure from Ground Zero's toxic dust. The agent was 47 years old when he died. The ATF states that the hero's death is a line-of-duty death.
"Our sympathies go out to the family of this 9/11 hero, who paid the ultimate price to help others," said Matthew J. McCauley, Senior Litigation Counsel at Parker Waichman LLP. The firm has never stopped fighting for the rights of 9/11 rescue workers and first responders, and has represented several clients who tragically died of injuries related to the attacks.
Parker Waichman was actively involved in working toward passage of the Zadroga Act, which provides medical treatment, monitoring and compensation to individuals who were injured as a result of September 11th terrorist attacks. These actions include lobbying efforts, and trips to Washington DC by Mr. McCauley and, often, with the firm's clients. Mr. McCauley and Parker Waichman continue to support the Zadroga Act and efforts to extend its timeline and scope.
According to Parker Waichman, exposure to the toxic dust that remained in the aftermath of the 9/11 attacks allegedly caused many rescue workers to develop respiratory illnesses, cancer, and other serious conditions. The Victims Compensation Fund (VCF) and WTC Health Program, the two programs established by the Zadroga Act, are a vital part of providing valuable assistance our 9/11 heroes. The VCF provides compensation to 9/11 victims who developed eligible illnesses as a result of exposure to the toxic dust clouds that developed following the attacks. The World Trade Center Health Program provides medical treatment and monitoring to victims and serves almost 70,000 first responders, other rescue workers, and survivors.
Parker Waichman LLP, which worked, and continues to fight, alongside Ground Zero first responders and their advocates to help ensure passage of the Zadroga Act, vows to continue its efforts to safeguard these heroes and ensure that they receive the full Zadroga Act compensation they deserve. If you or a loved one are eligible for compensation under the Zadroga Act, or filing a disability claim, and would like assistance with your claim or filing, please visit Parker Waichman's Zadroga Act claims page at yourlawyer.com, or call 1-800-LAW-INFO (1-800-529-4636).