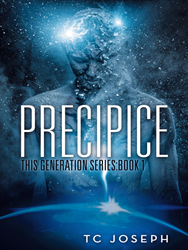 Average citizens, Vatican employees, members of the illuminati and extraterrestrials all play important roles...
Grand Rapids, Mich. (PRWEB) April 05, 2015
Whether it's birds falling out of the sky, wars breaking out or an increase in extreme weather conditions, news headlines have started to read like biblical prophecy. Such events have inspired author TC Joseph to expand his interest in prophecies to other traditions and cultures, where he has discovered some striking similarities.
Joseph found that many major religious, conspiracy and scientific theories point to the baby-boomer generation as the one to see great global upheaval and societal change, often referred to as the "end times" or "end of the age." He has taken all of these seemingly disparate philosophies and turned them into one cohesive narrative about what is to come. The tale begins with "Precipice," which is the first part in the "This Generation Series."
"Judeo-Christian narratives point to the birth of Israel as a nation in 1948 as the signal for the end," Joseph said. "I started to think to myself, 'what if all of these cultures and perspectives are talking about the same impending event?' The post-WWII generations are the ones at the precipice of great change, so that's whom my story follows. I look at how we got here and where we'll go while exploring different prophecies in the real world."
"Precipice" launches the tale of three families following them through historical transformation between 1969 and 1989. Joseph continues the story of these families decade-by-decade from 1969 and into the future with each book in the series.
Average citizens, Vatican employees, members of the Illuminati and extraterrestrials all play important roles in the unveiling of prophecies that have come true so far and how they may play out in the future. We may not know what the end will entail, but TC Joseph wants to help us take a look at the possibilities.
For more information, please visit http://www.thisgenerationseries.com or http://www.tcjoseph.com
"Precipice"
By: TC Joseph
SC-ISBN: 987-1-4808-0783-9
SC-Retail price: $12.99
Available at barnesandnoble.com, amazon.com and Archway Publishing
About the author
TC Joseph recently retired as an executive from a global consumers company to care for his mother after she had a massive stroke. In his time caring for her he has been able to fulfill his passion for studying Bible prophecy and cultural history. His global experiences have been channeled into his studies and writing.
###
**FOR IMMEDIATE RELEASE**
EDITORS: For review copies or interview requests, contact:
Spencer Hotz | 317.602.7137| shotz(at)bohlsengroup(dot)com
(When requesting a review copy, please provide street address.)