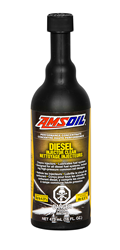 (PRWEB) April 03, 2015
AMSOIL has introduced a convenient single-use package size for AMSOIL Diesel Injector Clean to round out its line of premium diesel additives. The new 8-oz. bottle is ideal for applications requiring 15-20 gallons of fuel.
AMSOIL Diesel Injector Clean is formulated with a concentrated alcohol-free chemistry that provides optimized performance in diesel applications. It removes performance robbing deposits found in fuel injectors and the combustion chamber. These deposits have become increasingly troublesome for high pressure common rail diesel engines. Diesel Injector Clean maintains cleanliness and controls wear to fuel pumps and injectors.
For larger diesel fuel tanks, AMSOIL continues to offer Diesel Injector Clean in 16-oz., 64-oz. and bulk quantities.
About the Company: AMSOIL has been the recognized leader in synthetic lubrication since 1972. For more information about AMSOIL diesel fuel additives contact your nearest AMSOIL distributor or call AMSOIL at (715) 392-7101 or 1-800-777-8491. AMSOIL INC., 925 Tower Avenue, Superior, WI 54880, or go to http://www.amsoil.com.
High-res photo available upon request.
News Contact:
Ed Newman
Advertising Manager
enewman(at)amsoil(dot)com
715-392-7101