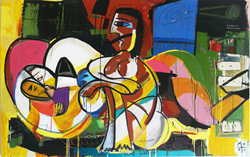 "The tension in these pieces reveal his yearning for indulgence but also for absolution."
Atlanta, GA (PRWEB) April 04, 2015
Bill Lowe Gallery presents Françafrique: Impulse, Desire & Decorum, featuring Frank Schroeder. Emerging from a tumultuous childhood and a soul-crushing artistic debut, Schroeder's new body of work explodes with vibrancy of color and breadth of expression. In these paintings, Schroeder struggles with the dichotomy of decadence and decorum. The tension in these pieces reveals his yearning for indulgence but also for absolution. An unforgiving intellect probes the realm of the heart and soul.
Schroeder was born to a French mother and a West African father gaining a unique ethnicity spanning continents and divergent cultures. His family moved to the Ivory Coast where he suffered through the First Ivorian Civil War. He found solace studying the philosophy, literature and artwork of the 19th and 20th centuries. He retreated to an inner creative world he describes as "dark and sometimes near death." In 2004, his gallery in the Ivory Coast was ransacked in the aftermath of the revolt and all his pieces were destroyed.
This current exhibition tells intricately woven stories of biblical themes and personal experience blended with psychological and emotional confessions. His modernistic use of line combined with energetic colors and evocative Neo-expressionist style is layered with a uniquely patterned use of numbers and type that capture the gaze and encourage new experiences each time the work is engaged.
About Bill Lowe Gallery:
Bill Lowe Gallery has for a quarter of a century ranked as the south's pre-eminent contemporary gallery. It sanctions a vigorous advocacy of potent primary and alternative voices in art.
The gallery represents artists from around the globe who share powerful and eloquent visions supported by a highly advanced mastery of their media. The visceral emotionality and sheer physicality of its work lends a highly theatrical flavor to the gallery's offering. Thematically, the gallery's aesthetic is characterized by a metaphysical yearning articulated by process and imagery which is strongly psycho-spiritual and psycho-sexual in nature.
Share and engage with the Bill Lowe Gallery on Instagram (@billlowegallery), Twitter (@billlowegallery) and Tumblr (@billlowegallery) via hashtags #Francafrique #SOFU #Schroeder #lowegallery.