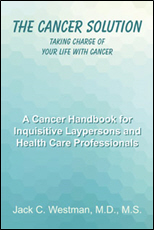 Nutrition is important in the prevention and treatment of cancer
Madison, Wisconsin (PRWEB) April 06, 2015
Dr. Joseph Maresca suggests that Dr. Jack Westman's book The Cancer Solution: Taking Charge of Your Life with Cancer will increase awareness of the health and wellness complements to the conventional treatment and prevention of cancer, the number one cause of death in the world.
Dr. Maresca notes that Dr. Westman shows how diet is becoming a new frontier with high powered nutrient formulations and the use of organic food in the prevention and treatment of cancer.
Quite a bit is known about the adverse impact of non-nutritive foods like white sugar, fried foods, high content alcohol and non-organic based food additives. High acidity is another precedent for cancer. Alkalinity creates an environment which is not conducive to cancer growth. The answer is to facilitate modalities which encourage alkalinity in the diet.
Dr. Westman cites Professor of Pharmacology and Molecular Sciences at Johns Hopkins University Dr. Paul Talalay's finding that cruciferous vegetables, such as arugula, bok choy, broccoli, cabbage, cauliflower, collard greens, kale and watercress, reduce and may block neoplasia─the process that forms cancer cells. Another study that tracked breast cancer for six years showed that those who consumed the most foods rich in carotenoids, such as carrots, sweet potatoes, tomatoes, apricots and beets, lived longer than those who consumed less.
Anti-angiogenic therapies stop the growth of tumors and progression of cancers by limiting the formation of new blood vessels in cancer tumors (angiogenesis). Anti-angiogenic foods and beverages include strawberries, soybeans, parsley, garlic, tomatoes and four different teas: Chinese jasmine, Japanese sencha, Earl Grey and a blend that is more potent than either one alone. Combining cruciferous, carotenoid and anti-angiogenic foods may have merit in the prevention and treatment of cancer.
To top off of all of this suggestive evidence, Thomas Seyfried in his 2012 book Cancer as a Metabolic Disease, makes a compelling case for the metabolic factors that lead to neoplasia. Two major conclusions emerge from the hypothesis that neoplasia is a metabolic disease: 1) many cancers regress and 2) many cancers may be prevented if carbohydrate intake is restricted. These conclusions are supported by the fact that obesity is a risk factor for cancer.
Dr. Westman explains how a low-carbohydrate, ketogenic diet causes your body to enter ketosis. This means that your body is using fat for energy and blood levels of ketones are elevated. Ketones are burned for energy just like glucose by normal cells. If glucose is unavailable, they can use either fatty acids or ketone bodies to provide energy. Cancer cells are unable to do this. They must have high levels of glucose to survive.