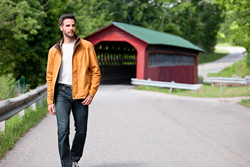 "We're especially proud that so many of our leather jackets are made in the USA," Leahy said.
Fairfield, IA (PRWEB) April 09, 2015
Say goodbye to cold and hello to spring. Overland has just released its spring 2015 collection of leather jackets, handbags, shoes and accessories, each providing just the right combination of artisan craftsmanship and casual luxury for warmer days.
The same Overland Sheepskin Co. known for its fine selection of sumptuous sheepskin coats also offers lightweight leather and suede fashions to stay cool and stylish long after the snow melts, as well as eye-catching leather handbags, leather boots and sandals, leather belts, and a diverse range of straw hats—from western to fedora.
"Leather jackets are incredibly versatile," explains Roger Leahy, president of the 42-year old family business. "In addition to being year-round outerwear options, they convey unique personal style, taste and an appreciation for quality." Overland offers modern takes on classic leather jacket styles, including popular bomber jackets for him and her as well as leather blazers, vests and biker jackets, each one quality crafted and stitched in an array of fashionable designs to fit every taste and personality.
"We're especially proud that so many of our leather jackets are made in the USA," Leahy said. "The craftsmanship and attention to detail in our American-made lightweight leathers set the standard for quality, and our customers love the combination of style, function and rugged durability."
For more information, visit http://www.overland.com
About Overland:
In 1973, Jim Leahy arrived in Taos, New Mexico with a bale of sheepskins and a sewing machine. He set up the first Overland store, a humble adobe shop between the rugged Sangre de Cristo range and the Rio Grande Valley. The young entrepreneur proceeded to create beautiful, high-quality sheepskin coats, hats, mittens, and slippers, meticulously cutting and stitching everything by hand. Today, family-owned and operated Overland Sheepskin Co. features 16 retail stores throughout North America and a thriving online business, offering more than 1,000 styles of high quality sheepskin, leather and fur fashions. Overland's family atmosphere has remained the backbone of the business, with a passion for quality matched by exceptional service.