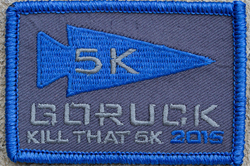 "I've been looking for a hydration product that works, isn't loaded with sugar, has little or no taste, and won't sit in my stomach like a rock. I found that in Oral IV." Cadre Dakota
Los Gatos, CA (PRWEB) April 05, 2015
ORAL I.V., a hydration company, has partnered with GORUCK to become the official hydration aid of the inaugural Kill That 5K event series. Founded by a U.S. Army Special Forces veteran, GORUCK is led by a cadre of decorated combat veterans and inspired by elite military training. Kill That 5K elevates the traditional 5K by incorporating rucksacks, which participants will carry on their backs for the duration of the event. ORAL I.V. will be provided to help competitors stay hydrated and help prevent heat or dehydration-related injuries or illness.
"The military was the very first community to adopt ORAL I.V. over five years ago, so service members hold a special place in the history of our brand," said Bob Jones, CEO, ORAL I.V. "It's an honor to work with GORUCK because they share our philosophy of setting the highest standards for yourself and breaking through pre-conceived notions of human potential. We hope to play an important role in the well-being of Kill That 5K participants as they take on this exciting new physical challenge."
"GORUCK bridges the gap between all walks of life: military and non-military, men and women, young and old," said Cadre Dakota, GORUCK. "Our events are designed to push individuals to their limits, and hydration is critical during such exhaustive events. I've been looking for a hydration product that works, isn't loaded with sugar, has little or no taste, and won't sit in my stomach like a rock. I found that in Oral IV."
Current dates for Kill That 5K include April 25 in San Francisco, May 9 in Denver, June 26 in Seattle. More dates will be announced shortly in Boston, Los Angeles, Austin, New York, Chicago, Philadelphia, Washington DC, Virginia Beach and Fayetteville. For more information or to sign up, visit http://www.goruck.com.
ORAL I.V. is formulated with a proprietary blend of electrolytes and trace minerals such as sodium, potassium, magnesium, chloride, manganese, selenium, copper, calcium, silicon and zinc. These elements undergo a production process to create a precise formula that activates and aids the body's natural hydration processes. ORAL I.V. is not just a performance product; it can be used for daily maintenance and hydration efficiency. ORAL I.V. also does not contain any sugars, stimulants, or artificial ingredients.
ORAL I.V. has been certified by Informed-Sport, a quality assurance program for sports nutrition products, suppliers to the sports nutrition industry and supplement manufacturing facilities. The informed-Sport program provides assurance that products have been tested for substances listed on the World Anti-Doping Agency list of banned substances and are safer for athletes to use. ORAL I.V. is also produced to the highest standards of quality under rigorous manufacturing controls and is manufactured in a facility that follows current Good Manufacturing Practice (cGMP) requirements according to ISO 9001 standards.
For more information, please call (855) 672-5484 or visit http://www.oraliv.com.