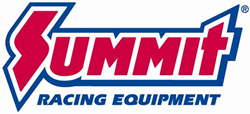 Tallmadge, OH (PRWEB) April 07, 2015
Ever since Clarence Spicer invented the universal joint in 1904, OEMs like Dana and enthusiasts have depended on Spicer U-joints, yokes, axle shafts, differential guts, and other parts to keep their vehicles rolling along. Summit Racing carries a broad selection of Spicer Drivetrain Products.
Light-Duty Universal Joints
Don't let the name fool you. Spicer's light-duty U-joints are plenty rugged for use in performance cars, pickups, and SUVs. The U-joints feature journal crosses manufactured from high-quality alloy forgings that are heat-treated for maximum life. The bearing cups are case-hardened for strength and durability, while the nitrile rubber seals retain grease and keep dirt out. Ample grease reservoirs in each trunnion assure effective lubrication and are pre-filled with high-quality synthetic lithium grease for superior friction reduction and resistance to higher temperatures.
Summit Racing has Spicer universal joints for transmissions, differentials, axles, and transfer cases.
Ring and Pinion Gear Installation Combos for Dana Axles
Crack open a Dana axle and you'll find Spicer components inside. When it's time to replace or upgrade the ring and pinion, it only makes sense to use what Dana used. Made from high quality steel, Spicer gears are hobbed and shaved for optimal mating. That helps minimize stress and maximize gear life. The gears are also heat-treated and shot peened to further reduce metal stressing and improve durability.
The combos include the ring and pinion gears and all necessary bearings, seals, shims, and hardware. They are available for Dana 30, 35, 44, 50, 60, 70, and 80 series axles in a variety of gear ratios.
Front Axle Shaft Assemblies for Jeep Dana 30
Spicer front axle shaft kits feature an larger U-joints that are 25% stronger than the stock joints. The outer stub is reengineered for added strength, with improved snap ring retention to reduce shock load failures. Material has been added to the yoke ears to help reduce bearing cap spin.
The axles are through heat-treated and have cold-formed rolled splines that eliminate the need for machining. That helps reduce possible stress fractures and premature failure. Each axle is fatigue- and ultrasonic-tested to check for internal cracking—something standard magnetic testing can't do.
Spicer front axle shafts are available for Jeep Dana 30 front axles, including TJ and JK.
Transmission Slip Yokes
These hardened steel yokes are direct replacements for the stock yokes—which were probably Spicer products in the first place. Summit Racing has slip yokes for these transmissions:

GM TH-350, 4L60, 700R-4, Powerglide automatics
Muncie M20/21, T10 four-speed manuals
T-5, T-45, Tremec TKO 500 five-speed manuals
T-56 and Tremec TK 600 six-speed manuals
Summit Racing also carries Spicer axle bearing kits, CV joints, differential carrier rebuild kits, spools and mini-spools, driveshafts—almost 1,400 Spicer parts are currently on the shelves.
Summit Racing Equipment
http://www.SummitRacing.com
1-800-230-3030