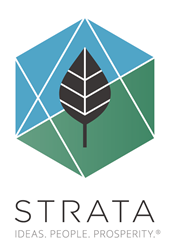 This gift will allow us to fundamentally change the way business ethics and entrepreneurship are taught to students of all ages... We are ready to get to work and we are incredibly humbled by their support.
Logan, Utah (PRWEB) April 17, 2015
Strata, a public policy research organization based in Logan, Utah, has received a $2.3 million grant from the John Templeton Foundation. The grant will be used to fund a project entitled, "Reinventing How Business Schools Teach Morality of Capitalism, Business Ethics and Entrepreneurship." Strata's Academic Programs team will host several curriculum design conferences with higher education and K-12 faculty in the design of pilot course modules that will reframe the way in which business ethics, capitalism and entrepreneurship are taught across all educational levels.
"I believe this is a wonderful opportunity for us to change the climate of ideas about business ethics, as it is currently viewed in education today," said Chris Fawson, Director of Strategy and Co-Founder of Strata. "Much of business education teaches entrepreneurship and ethics as fragmented, narrow disciplines, and capitalism as amoral or even immoral. We plan to challenge this perception by showing that principled entrepreneurship and ethics are rooted in a deep understanding of the morality of capitalism, and should be taught in a way that animates students' capacity to create value within the market and within their communities."
To reframe the conversation surrounding business ethics, a core element of Strata's efforts will be to redesign how principles of entrepreneurship and ethics are taught in the classroom through Disruptive Innovation Conferences. These conferences will bring together a large network of faculty and experts from across the country in higher education and K-12 to collaborate on the design and content of a new curriculum, learning modules, and classroom activities that disrupt the current curricular and programmatic approaches to teaching business ethics and entrepreneurship.
Project deliverables include the design of pilot courses for educators and business schools across the country. These pilot courses will be in module format so they can be used as stand-alone lessons, featuring video and easily customizable content for faculty to plug into their course curriculum.
"Disruptive Innovation Conferences are a way for educators to come together and start finding innovative solutions for what is best for their students," said Rebecca Stowers, Director of Development at Strata. "This generous gift from the Templeton Foundation enables us to start bringing experts together and focus their creative energy and insight on how to change the way business ethics and entrepreneurship are being taught today."
James Harrigan, Director of Academic Programs at Strata, spoke of the high-quality content that will be incorporated into the curriculum. "Our plan is to make this content easily accessible, and easy to use in the classroom, no matter what grade or level of education."
"Without the generous support from groups like the John Templeton Foundation, Strata would not be able to produce material that has the power to inform and change the societies we live in for the better," said Ryan Yonk, CEO and co-founder of Strata. "This gift will allow us to fundamentally change the way business ethics and entrepreneurship are taught to students of all ages. It is an exciting time for us. We are ready to get to work and we are incredibly humbled by their support."
The Pennsylvania-based John Templeton Foundation supports research subjects "ranging from complexity, evolution and infinity to creativity, forgiveness, love and free will." Similar to Strata's vision, John Templeton himself believed human societies could experience general prosperity only when they cultivated a respect for the broad principles of freedom, competition, and personal responsibility. For him, individual freedom was the indispensible foundation of economic, social and spiritual progress. The John Templeton Foundation honors this profound vision by supporting a range of programs intended to liberate the initiative of individuals and nations and to establish the necessary conditions for the success of profit-making enterprise.
At Strata, our mission is to help people make informed decisions about issues that impact the freedom to live their lives. We work to achieve more prosperous and free societies by affecting a change in the climate of ideas. We do this by conducting robust research on energy and environmental issues, informing policy makers, citizens and civic leaders, and by mentoring high-achieving students to become future decision makers. Strata is located in Logan, Utah. We draw from the collective academic strength and ideas from the faculty and students at Utah State University and a strong network of like-minded academics and professionals throughout the world.
###