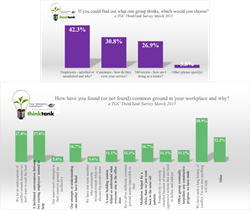 A team member takes advantage of company policy and anti-discrimination laws, affecting the morale of more conscientious members.
Anchorage, Alaska (PRWEB) April 07, 2015
Today The Growth Company announces survey results for relational issues in the workplace - for management, employees and customers. Respondents indicate significant and ongoing relational problems resulting in the need to 'take the temperature' of an organization – to see results, CLICK HERE. Surveys reveal that frequent and often ineffective attempts to reconcile difficult relationships affect not only the individuals involved but overall employee satisfaction, customer experience, and opinions about the leadership of an organization.
The Growth Company, Inc. is a Human Resource and Management consulting firm specializing in soft skills training, facilitation and mediation as well as investigations, coaching and manual/policy write ups and re-writes. The Growth Company, Inc. was established in 1978 and is one of the longest lasting consulting firms in Alaska.
For further information about The Growth Company or Dr. Lynne Curry go to http://www.thegrowthcompany.com. The Growth Company also has a Workplace Coach Blog, where Dr. Lynne Curry and other HR professionals post about everyday situations that a manager or supervisor may come across. They provide insight and the correct way to approach and handle these situations.