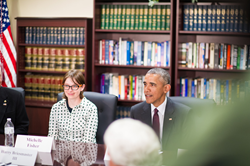 Salt Lake City, Utah (PRWEB) April 03, 2015
An administrator and faculty member of Salt Lake Community College's Green Academy/Energy Institute and one of the College's energy management students were part of a group that met with President Barack Obama Friday to talk about growth in the solar energy industry and where SLCC fits in with training workers for clean-energy jobs.
President Obama used his first visit to Utah to hype the U.S. Department of Energy's SunShot Initiative to make solar energy cost-competitive with other sources of electricity by 2020. As part of that initiative, the President announced Friday a new Department of Energy goal that increases the need for trained people in the solar workforce by 2020 from 50,000 to 75,000, many of whom will come from SunShot's Solar Instructor Training Network. SLCC's Judy Fisher, who met with the President, is the program coordinator for the Rocky Mountain part of the network. Fisher is also the Solar Program Coordinator for SLCC's Green Academy/Energy Institute.
While at Utah's Hill Air Force Base Friday, the President also talked about the new Solar Ready Vets Program as part of the SunShot Initiative, which will use the network and SLCC to train transitioning military veterans for entry into the solar workforce. SLCC has been offering solar training since 2009 and was singled out during the President's visit as the leader in the Rocky Mountain Region of the national network. The Rocky Mountain Solar Training Provider network includes 14 states, 8 of which are active within the network. Thaniel Bishop, who also met with the President, is the lead instructor for the solar program at SLCC's Green Academy/Energy Institute.
SLCC energy management student and 10-year Air Force veteran Michelle Fisher was also at the discussion Friday that included Sen. Orrin Hatch, Rep. Rob Bishop and Salt Lake City Mayor Ralph Becker. Fisher served in Iraq, Saudi Arabia, Jordan, Qatar and the United Arab Emirates and she is currently attending SLCC while participating in the VA's Vocational Rehabilitation program.
Salt Lake Community College is an accredited, student-focused, urban college meeting the diverse needs of the Salt Lake community. Home to more than 60,000 students each year, the College is Utah's leading provider of workforce development programs. SLCC is also the largest supplier of transfer students to Utah's four-year institutions and a perennial Top 10 college nationally for total associate degrees awarded. The College is the sole provider of applied technology courses in the Salt Lake area, with multiple locations, an eCampus, and nearly 1,000 continuing education sites located throughout the Salt Lake Valley. Personal attention from an excellent faculty is paramount at the College, which maintains an average class size of 20.