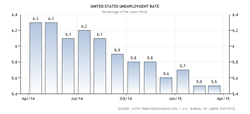 hese statistics really make one appreciate the opportune rates lenders are offering at the moment
Chicago, IL (PRWEB) April 04, 2015
Lenders like Peoples Home Equity are expecting a continued volume of mortgage applications as Friday's unemployment report remained strong and rates declined for the week.
As shown on TradingEconomics.com, mortgage applications have increased consecutively over the past two weeks by 9.5% and 4.6%. This type of performance is expected to continue since mortgage rates declined to a fell to a 2-month low on Friday. As shown on MortgageNewsDaily.com's "Daily Mortgage Rates" page, the average 30-year fixed home loan rate was a low 3.74% two weeks ago on March 20th; this rate has now declined to a very low 3.62% as of April 3rd. Just a reminder, 30-year mortgage rates have averaged 5.83% since 1948, ranging from 2.5% in May 1953 to 10.8% in November 1982. These statistics really make one appreciate the opportune rates lenders are offering at the moment. A 30-year fixed rate at 3.62% translates to a $100,000 mortgage costing just $455.77 a month. If interested in how much a loan may cost, one can easily calculate different monthly mortgage payment amounts on PeoplesHomeEquity.com.
American's are building their wealth and credit scores back since the great recession and this was evident in Friday's unemployment was unchanged. The unemployment rate for March remained at 5.5%, the same as February, which is the lowest level in 7 years. As more American's obtain employment or save their money they will have enough cash for a down payment on a loan. Peoples Home Equity knows that younger first-time home buyers are especially eager to get a down payment saved and apply for a home loan. Currently, the costs of a mortgage + HOA fees + property taxes are often lower than rent!
If interested in purchasing a property and are in in need of a mortgage, consider speaking to a Peoples Home Equity loan officer today at: 262-563-4026