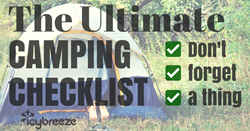 The camping checklist can be downloaded to Microsoft Word or opened in Evernote.
Bixby, Oklahoma (PRWEB) April 08, 2015
The camping season is heating up, and soon friends and family will hit the road to relax and explore nature. Preparation for a successful and enjoyable camping trip is key. A missing item when it comes time to cook the meal or pitch the tent can lead to frustration for all.
Hoping to curb this problem, the outdoor enthusiasts at IcyBreeze have prepared an extensive and practical camping checklist. The camping checklist helps users save time by providing a thorough list of camping items that can be edited down for each trip. IcyBreeze has provided an online version for simple use within a browser on desktop or mobile device. The camping checklist is also available for editing in two popular and user-friendly platforms. The list can be downloaded to Microsoft Word or opened in Evernote, so it can be pared down, added to, and taken to the store or the garage as items are gathered for the trip.
The camping checklist includes over 400 items broken down into the following categories: Campsite Gear, Clothing & Personal Gear, Toiletries & Personal Care Items, Cooking & Kitchen Items, Food & Drinks, Safety & Preparedness, Recreation & Fun, and Miscellaneous Items. It also includes an Essentials Camping Shortlist for a quick list of gear that should be considered essential for any short camping trip. Visit the IcyBreeze website to download the complete camping checklist.
The IcyBreeze is an innovative cooler that doubles as a portable air conditioner. Battery-powered, the IcyBreeze keeps drinks cold, while keeping the tent cool.