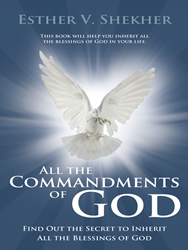 It is true that our God is a God of blessings, but we should not see Him only as a Santa Claus who provides us with all that we need
SAN JOSE, Calif. (PRWEB) April 07, 2015
It would have been easier for Dr. Esther Shekher to ignore the voice telling her to quit medicine and become a full-time Christian evangelist and missionary.
Instead, she gave up her practice and committed herself to serving the Lord. Through hard work and His guiding hand, Dr. Shekher has enjoyed many successes in her new path, from founding International Prayer Network (IPN) which has grown in just five years to 7,000 prayer cells in six nations, to beginning her television ministry which reaches 110 nations.
"Everyone wants to know the easy way out in life. Most people seek quick ways and means to receive prosperity and blessings," Dr. Shekher said. "But obedience to God's commandments is the only way you can receive blessings from God."
In her new book All the Commandments of God, Dr. Shekher clearly lays out how to seek and find God, how to walk in an intimate relationship with Him, and how to please Him. Through understanding the commandments of God, readers will receive blessings and find ways through all of life's greatest obstacles.
"It is true that our God is a God of blessings, but we should not see Him only as a Santa Claus who provides us with all that we need," Dr. Shekher said. "We need to follow his instructions for us to live a pleasing life before Him."
For more information, visit http://www.allthecommandmentsofgod.com/.
All the Commandments of God
By Dr. Esther Shekher
ISBN: 978-1-44978-523-9
Available in softcover, e-book
Available on Amazon, Barnes & Noble and WestBow Press
About the author
Dr. Esther Shekher is a medical doctor who gave up her profession ten years ago to answer God's call bringing her to mission work. Since then, she has preached at 35 pastors' conferences and founded International Prayer Network (IPN), which includes more than 7,000 prayer cells in six different nations. In 2011 she began a television ministry that airs on two stations and covers 110 nations in Europe, the Middle East, and Asia. Dr. Shekher is currently writing a follow-up to All the Commandments of God to focus on the hidden treasures of God's Word.
**FOR IMMEDIATE RELEASE**
For review copies or interview requests, contact:
Jaymie Shook
317.602.7137
jshook(at)bohlsengroup(dot)com