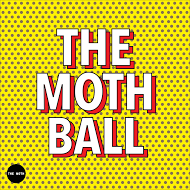 If storytelling is a super power, then Louis C.K. is Superman. We couldn't think of a better person to honor at The Moth Ball this year. -- Sarah Haberman, Executive Director, The Moth
New York, NY (PRWEB) April 06, 2015
The Moth --the beloved storytelling organization-- today announced details for their annual fundraising gala, The Moth Ball. Slated to take place on Tuesday, May 12 at Capitale in Manhattan, the superhero-themed celebration will honor comedian and gifted raconteur, Louis C.K.
The evening's festivities will include an award presentation to Louis C.K., a festive seated dinner and a lively cocktail party, along with an exceptional show featuring narratives by National Book Critics Circle Award Winner Andrew Solomon, 2014 Moth GrandSLAM champions, and über-talented students from our High School Education Program – all emceed by Moth storyteller and host of NPR's "Ask Me Another," Ophira Eisenberg. An online auction offering priceless experiences --ranging from tea with screenwriter Neil Gaiman, to a drink and a dilemma with pop culture icon Molly Ringwald, and trapeze flying with independent film star Lili Taylor -- will go live one week prior to the Ball and remain open throughout the evening. The full list of auction items will be announced shortly on bit.ly/MothBall2015.
Proceeds from the gala will support over 450 live storytelling shows in 2015 the U.S and abroad, as well as The Moth's community and education programs serving thousands of students, teachers and others with stories to tell, plus The Moth Radio Hour which airs on 380 public radio stations across the country and its podcast, which is downloaded more than 27 million times a year.
"If storytelling is a super power, then Louis C.K. is Superman," says Sarah Haberman, Executive Director, The Moth. "We couldn't think of a better person to honor at The Moth Ball this year. His humor, artistry and openness epitomize the craft's best qualities and underscore The Moth's values of honesty and authenticity. It will be a night to remember!"
With this accolade, C.K. joins an exclusive list of noted Moth Ball honorees including Zadie Smith (2014), Albert Maysles (2013), Martin Scorsese (2012), Spaulding Gray (2011 - posthumously), Calvin Trillin (2010), Anna Deavere Smith (2009), Salman Rushdie (2008) and Garrison Keillor (2007).
Tickets are available at $195 for cocktails/show only, tickets for the entire evening including dinner start at $425, tables range from $10,000 to $25,000, and can be purchased by contacting Inga Glodowski at 646-762-2618 or inga(at)themoth(dot)org or visiting http://bit.ly/MothBall2015.
ABOUT THE MOTH BALL
Known for being "the hippest literary gala going" (Biz Bash), The Moth Ball has become one of the most engaging and unique ways to celebrate the power of storytelling and support our many programs. The annual fundraiser brings together the best storytellers from The Moth's arsenal. Proceeds from the event will support over 450 live storytelling events in he U.S. and abroad in 2015; The Moth Radio Hour, airing on 380 public radio stations across the country; our podcast, downloaded more than 27 million times per year; and The Moth's Community and Education Programs, offering workshops and performance opportunities to high school students, teachers and other special groups with stories to tell, from Innocence Project exonorees to Aspen Institute fellows.
This year's event host committee includes Jonathan Adler and Simon Doonan, Jay Allison, Lauren Ambrose and Sam Handel, Darren Aronofsky, Dan Barber, Marci and Javier Bleichmar, Bloomberg Philanthropies, Katherine Borowitz and John Turturro, Lawrence C. Burnstein, Tracy Day and Brian Greene, Rachel Dratch, Joan D and Dick Firestone, Alice Gottesman, Agnes Gund, Ari Handel, Karen Hershey and Larry Green, Carrie and Courtney Holt, Dave Isay, Julie and AJ Jacobs, Anne Kreamer and Kurt Andersen, Lewis Laphan, New York Magazine, Edgar Oliver, Amanda Palmer and Neil Gaiman, Martha Parker and Adam Gopnik, Beena Patel and Hasan Minahaj, Joanne Ramos and Roger Skelton, Molly Ringwald and Panio Gianopoulos, Kathie Russo, Aaron Santell, Martin Scorsese, Rachna Shah, Jake Shapiro, Melanie Shorin and Greg Feldman, Rachel Silver and Nathan Englander, Zadie Smith, Jenny Stein and Mike Birbiglia, Lili Taylor and Nick Flynn, Calvin Trillin, Melissa Walker and Christian McBride, Colson Whitehead and Joshua Wolf Shenk.
ABOUT THE MOTH
The Moth is an acclaimed not-for-profit organization dedicated to the art and craft of storytelling. It is a celebration of both the raconteur, who breathes fire into true tales of ordinary life, and the storytelling novice, who has lived through something extraordinary and yearns to share it. At the center of each performance is, of course, the story – and The Moth's directors work with each storyteller to find, shape and present it. Since its launch in 1997, The Moth has presented thousands of stories, told live and without notes, to standing-room-only crowds worldwide.
The Moth shows are renowned for the great range of human experience they showcase. Each show centers on a theme, and the storytellers explore it, often in unexpected ways. Since each story is true and every voice authentic, the shows dance between documentary and theater, creating a unique, intimate, and often enlightening experience for the audience.
Moth stories dissolve socio-economic barriers, expose vulnerabilities, and quietly suggest ways to overcome challenges and see with new eyes. For more information, visit http://www.themoth.org
# # #
Media contacts:
Helen Allen/Meryl Cooper, info(at)allencooper(dot)com, 212-260-8100