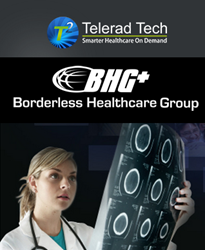 The gadgets will get smarter, faster, and more patient-friendly. It is imperative that we at Telerad Tech™ constantly strive to leverage the flexibility and open architecture of RADSpa™," - said Ricky Bedi, CEO of Telerad Tech™
(PRWEB) April 07, 2015
Ubiquitous teleradiology will soon be available in mHealth apps, internet of things and smart homes powered by the Borderless Healthcare Group. Consumers can upload their radiological images like Xray, ultrasound, CT scan, etc. via a portal http://www.borderlessclinic.com (or http://www.radiologist-on-demand.com) and have access to second opinions from hundreds of US-certified radiologists.
The ubiquitous healthcare ecosystem created by Borderless Healthcare Group is aimed to support many consumers to have access to healthcare anywhere and anytime. As healthcare evolves from a hospital-centric model to a consumer and home-centric model, the mobility of health services becomes more important. "The unequal distribution of imaging expertise in a country can now be resolved via cloud-based application and consumers can finally enjoy a new form of healthcare democracy where imaging experts from around the world can support the local healthcare professionals," says Dr Wei Siang Yu, Chairman of Borderless Healthcare Group.
With the structural changes in the health care delivery system, technological trends, and patient awareness, it is becoming extremely important to leverage the value of advance technology to improve patient quality care. The pace of innovation in the diagnostics industry will only accelerate further. The gadgets will get smarter, faster, and more patient-friendly. It is imperative that we at Telerad Tech™ constantly strive to leverage the flexibility and open architecture of RADSpa™," said Ricky Bedi, CEO of Telerad Tech™, "to provide seamless, patient centric workflow solutions".
The RADSpa™ image sharing portal has been integrated with BHG patient portal to deliver fast, secure, optimized collaborations between doctors and patients. The integrate portal is a convenient way for patients to communicate with their doctors, while keeping in mind the sole purpose of the portal is to speed up delivery results and eliminate unnecessary visits to the doctor. This service will be supported by a Medical Butler (online nurse concierge) which will be included as a service in selected mHealth apps, wearables, internet of things and smart home platforms powered by the group in Q3 this year.
Users who do not have digital images can also benefit from radiological image digitalisation services where physical images will be digitalised and uploaded into the image cloud for better portability borderlessly.
About Borderless Healthcare Group (BHG)
BHG, founded by key stakeholders in the medical, CRM, IT, legal, finance, and media industries, spans more than 10 companies in the three key areas of health, wellness and food. BHG's expertise in the activation of disruptive healthcare market processes has won several media features and partnerships with governments, hospitals, and pharmaceutical companies around the world. The interactive healthcare process pioneered by BHG has not only provided a solution to how governments can resolve the problem of poor public adoption of EMR, it has also evolved the flawed notion of "universal healthcare" to the more relevant concept of borderless, on-demand, ubiquitous healthcare.
Telerad Tech™ was founded by a group of technology innovators and eminent radiologists with the focus to develop products and solutions to address the gaps and needs of Healthcare IT in general, and radiology automation systems in particular. Having partnered with a leading Tele-radiology institute and led by technologists with background in developing and deploying automated solutions, Telerad Tech™ builds workflow enhancing products with built in image management capabilities for: radiology imaging, clinical imaging, telemedicine, cardiology imaging, and dental imaging. TeleradTech™'s flagship workflow improvement productivity solution- "RADSpa™" has over 100+ installations worldwide. RADSpa™ is a unique cloud-based imaging workflow intelligence system designed to improve communication and collaboration among physicians, technologists, IT staff and institutions.