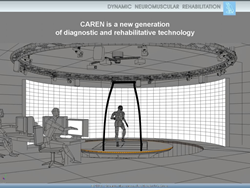 New York, NY (PRWEB) April 08, 2015
In the United States, approximately 31 million people are suffering from lower back pain. Furthermore it is the leading cause of disability in the world. What's even more alarming is that patients suffering with chronic lower back pain may be worsening their pain by limiting their movements due to the fear of feeling pain while moving. According to a study by Parsons and Trost, pain-related fear and limiting movement are major contributors to the continuing pain patients with chronic lower back pain suffer from. Additional research concludes that graded exposure using virtual reality rehabilitation is the most effective method to reducing pain-related fear – the distraction theory.
The New York Dynamic Neuromuscular Rehabilitation & Physical Therapy clinic (NYDNRehab) is offering Computer Assisted Rehabilitation Environment or CAREN as a method of treatment for patients with chronic lower back pain. CAREN is a multi-sensory virtual reality system that engages the patient in a virtual environment of fun, therapeutic games, which in turn, distracts the patient from their pain and fear. The distraction theory has been supported by research with results showing that virtual reality distraction can reduce subjective pain and reduce pain-related brain activity. In light of all the research and support, NYDNRehab has been using CAREN to immerse their patients in an environment that allows them to lose their fear of movement and receive optimal movement rehabilitation. Previous patients who have received this type of rehabilitation have reported that they were able to perform movements, which they were trying to avoid for years without pain.
NYDNRehab strives to provide the best, most advanced care for their patients. For more information on how NYDNRehab can help you decrease chronic lower back pain please call us 866-311-5889 or visit us online at http://www.nydnrehab.com.