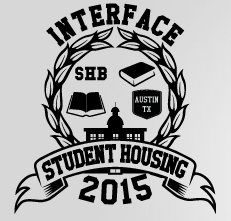 For Rent Media Solutions and FRU, its student-targeted site, are committed to providing multifamily and student housing professionals with the essential information they need to prosper in their industries.
Norfolk, Va. (PRWEB) April 06, 2015
ForRentUniversity.com® (FRU), a subsidiary of For Rent Media Solutions™ (FRMS), is specifically targeted to off-campus housing, connecting apartment communities that are located near colleges and universities with the student demographic. This includes undergraduates, graduate students, international students, faculty and staff. FRU has announced its sponsorship of the seventh annual Interface Student Housing Conference to be held April 8-10, 2015 at the JW Marriott-Austin in Austin, Texas. Interface Student Housing, a gathering of more than 900 attendees with 100 industry-leading speakers and more than 18 panels of experts, is one of the most anticipated events in the student housing industry.
Erica Campbell Byrum, director of social media for FRMS, co-author of Youtility for Real Estate, and one of the industry's top social media experts, will represent FRMS in Austin. On Friday, April 10, from 8:40-9:30 a.m., Erica will be a panelist discussing The Future of Social Media: The Next Generation of Social, Mobile, Video and Web as a Bigger Community Play. Joining Erica on this power panel will be Robert Castellucci, president and CEO of RoomSync; Steven Ozbun, vice president and managing partner of The DZAP Group|LeaseLabs; John Hinckley, cofounder and CEO of Modern Message; and moderator Kim Cory, principal of KC Magnetic Consulting. They will discuss the evolving relationship between social and business goals and how traditional social practices are turning to more diverse strategies. The future of social media is all about utilizing customer service to build lasting relationships, which is especially important in the student housing industry, as these are some of the youngest consumers. Byrum will reveal which trends to watch and how student housing property managers can increase ROI and ramp up their social media plan through FRU's suite of products and FRSocial.
"For Rent Media Solutions and FRU, its student-targeted site, are committed to providing multifamily and student housing professionals with the essential information they need to prosper in their industries," said Terry Slattery, president of For Rent Media Solutions. "The Interface Student Housing Conference is an outstanding event that brings student housing and multifamily professionals together to make connections and learn from each other. Insights from industry experts like Erica Campbell Byrum and Diana Paz (national account executive for FRU) will enhance the experience of attendees, providing them with invaluable information and resources to apply to their marketing and social media plans."
In addition to speaking at Interface this year, Byrum will also be a judge of the fifth annual Student Housing Business "Innovator Awards" in the category of Best Mobile Marketing Campaign. There are two categories -- on campus and off campus – with more than 20 subcategories. The winners will be announced live at the Innovator Awards presentation on the evening of Thursday, April 9.
Be sure to stop by the FRU booth 405 in Austin.
About For Rent Media Solutions™
Founded in 1982 as For Rent Magazine®, For Rent Media Solutions™ is headquartered in Norfolk, Virginia, and provides property managers and owners with diverse marketing and advertising products, services and education. These products are easy to use, easy to understand, and designed with renters in mind. For apartment shoppers, For Rent Media Solutions provides robust community listings in a multitude of media, including print, social, online, mobile, video and an extensive distribution network. For Rent Media Solutions publishes 80 magazines covering more than 80 markets nationwide, including AFTER55.com™ A Senior Housing and Care Resource, ForRent.com® Magazine and ForRent.com en Español Revista De Apartamentos. For Rent Media Solutions operates five websites: ForRent.com, AFTER55.com™, CorporateHousing.com®, ForRent.com en Español and ForRentUniversity.com™. Additionally, ForRent.com listings receive exclusive distribution to Homes.com® Rentals. Visit ForRent.com for more information, or visit us on Facebook, Twitter, Google+, YouTube and LinkedIn.
About ForRentUniversity.com®
ForRentUniversity.com® offers property managers and off-campus communities increased online exposure through multiple advertising opportunities, including social, video and mobile. The mission of ForRentUniversity.com is to enhance the visibility of communities through dynamic search outlets on the website and an expansive network of linked services. ForRentUniversity.com utilizes innovative listing tactics to promote communities, and also offers communities direct engagement with residents through Facebook and Twitter.