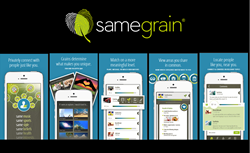 "It is remarkable to see the various ways that people are benefitting from SameGrain. Our users are locating more compatible roommates and travel companions, as well as, finding support groups and new business networks," said Anne Balduzzi, Founder
BALTIMORE, MD (PRWEB) April 07, 2015
SameGrain, the privacy-first social discovery app, today makes its official debut. Available on the Apple App Store, SameGrain rises above traditional matching apps that focus on dating or flirting by addressing the need to form personal and business relationships beyond romance. With SameGrain, people that have multiple in-depth areas in common can connect with individuals in similar situations, stages of life or locations – whether moving to a new campus or city, sharing a unique hobby like homebrewing or couponing, loving the same pets or overcoming a similar health issue.
SameGrain's unique approach to recommending social connections is powered by a proprietary matching algorithm that analyzes users' answers to hundreds of questions, thousands of attributes from existing social profiles and nearly 45 million user-selected topics encompassing all of Wikipedia and more. This connects users anonymously with like-minded people whether they are located around the corner or around the world. Covering topic areas such as life experiences, skills, beliefs, interests, favorites, fears, health and habits, SameGrain's mix of serious and entertaining questions makes discovering new matches fun and engaging.
"It is remarkable to see the various ways that people are benefitting from SameGrain. Our users are locating more compatible roommates and travel companions, as well as, finding support groups and new business networks," said Anne Balduzzi, SameGrain's Founder. "Our vision is to provide a secure platform where people develop more meaningful connections based on common threads they discover via our app. With SameGrain, people are completely anonymous, and can only view the attributes they share in common – their 'same grains.' Going forward, we have many new features in the pipeline and are looking forward to welcoming Web and Android device users in the coming months."
SameGrain's nature-themed design and user interface are unique and intuitive. People develop their profiles primarily by answering questions, which are grouped by topic and prioritized based on their match preferences. The answers to these questions - called Grains - are used to identify people that should meet – called Matches. Users can review their Matches' shared attributes – their same Grains – and then choose to Plant strong Matches to grow the connection via SameGrain's communication tools, or Mulch weak ones to remove them. Mulched matches are stored in a Mulch Pile section of the app and can be recycled at any time. With SameGrain, the user always has control over privacy and their relationship with other users.
SameGrain requires iOS 7.0 or later and is compatible with iPhone, iPad, and iPod touch. The company intends to launch a Web and Android app later this year.
Check out this video to see how SameGrain works: https://vimeo.com/110143372
About SameGrain:
SameGrain is a privacy-first social discovery platform for meeting people beyond dating. The app helps users locate and grow new connections with people that share multiple in-depth attributes, such as backgrounds, beliefs, health issues, life experiences, skills and more. SameGrain's robust data, proprietary algorithm and patent pending technology elevate social discovery and enable people to connect on a more meaningful level. Match data is derived from hundreds of proprietary questions, thousands of attributes from existing social profiles, and nearly 45 million topics, encompassing all of Wikipedia and more. SameGrain also provides platform services to meet the specific needs of organizations, universities and companies. Platform partners can leverage the SameGrain algorithm and matching process to better connect their own audiences while gaining valuable insights about their members or customers. Headquartered in Baltimore, Maryland, SameGrain takes the 'strange' out of stranger.
SameGrain® is a registered trademark of SameGrain, Inc. For more information visit http://www.samegrain.com.