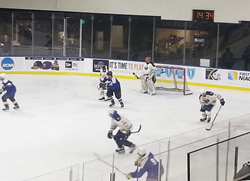 "Thank you to everyone that came out for a fun game to support a great cause." -William Mattar
Buffalo, New York (PRWEB) April 07, 2015
The Sabres Alumni vs. Esquires from local firms, including attorneys from William Mattar P.C., took place in a charity hockey game at HarborCenter on Thursday April 02, 2015. The event started with a free family skate night including free parking. Sabres Alumni Association members were available to sign autographs and two jerseys were raffled off as well as a 50/50 drawing. The popular 716 restaurant catered a pizza party for all after the game. An impressive two goals were scored by Tyler Threehouse of William Mattar PC, who says he enjoyed "being on a line with Sabres alum Rob Ray." During the 2nd half of the game, some of the Alumni switched jerseys and moved to the Esquires side. William Mattar was present as one of the game coaches.
About the Sabres Alumni Association
This group of former Buffalo Sabres players are constantly involved in activities and events around the community. In 1995, the Alumni founded the Scholarship Program. The Sabres Alumni Association, founded in 1988, is also actively involved in supporting the Breast Cancer Center at Roswell Park Hospital. http://sabresalumni.com/
About William Mattar, P.C.
The firm, and it's employees, are constantly involved in community events and programs such as Breast Cancer Awareness, Buckle Your Belt Program and Rescue A Shelter Animal. William Mattar P.C. works with car accident injury cases and has helped thousands across New York State. For more information call 444-4444.