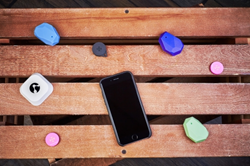 We wanted to make losing stuff less stressful.
(PRWEB) April 08, 2015
Open Media, LLC developed a solution for finding and tracking of valuable stuff. By linking iBeacons with a really simple to use iOS app called Find My Stuff, they've made losing stuff, then finding it again, simple and even fun. The team at Find My Stuff is ready for their app to be tested by the general public, especially by those people who tend to mislay important things.
Alex Miller, head of the development team at Open Media, LLC says: "We wanted to make life easier and to make losing stuff less stressful. We looked at some solutions on the market and found that Bluetooth beacons can only be used with native mobile apps. Our idea was to change this restriction, making an app that is super user-friendly and reliable and that will support all beacons manufacturers."
The Open Media, LLC team have created a simple to use, but powerful, mobile app called Find My Stuff. The app does what it says, it finds the things if they are lost. Powered by a tiny transmitter (in the form of a small sticker), the Find My Stuff app can locate any object that has the transmitter attached. It can be stuck on the keys, the remote control, even the family cat. It works with all popular beacons and will shortly work with all beacon models. It links people and their stuff together through the phone, giving peace of mind; there is no need to search the house for hours for those missing car keys.
The Find My Stuff app is currently at the beta stage and at the moment only for the iOS, but other supported phone types are coming soon. The company is looking for volunteer testers, or in other words, anyone, who loses their stuff from time to time. To be one of the first to use this amazing app, send an email to support(at)fstuff(dot)com
About Open Media, LLC
Open Media, LLC is a team of individuals committed to building truly useful mobile apps. They see iBeacons as part of the wider Internet of Things (IoT) and a great way to connect people with objects. The philosophy of the Find My Stuff people is a belief in the cooperativeness of individuals; they are firm believers in reciprocal altruism and the need for human beings to help one another for the greater good of the group. The Find My Stuff team will use the Internet of Things to develop ties within the wider world community, starting with finding those pesky lost objects.
Twitter: @FindMyStuff
Facebook: https://www.facebook.com/fstuffapp