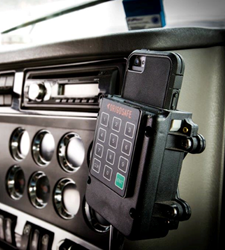 ORIGOSafe implementation did certainly have a positive effect on safety and did prevent texting while driving...The overall safety culture of the company was changed; our drivers think more in terms of being safer drivers, so everyone wins.
Roanoke, VA (PRWEB) April 07, 2015
Keeping Growth, Progress Alive and Safe at Garcia Roofing:
Distracted driving is an increasingly deadly problem on our nation's roads and highways. The National Safety Council estimates that at least 24% of all traffic crashes, or 1.3 million accidents per year, involve drivers using cell phones and texting. These cell phone-related crashes result in 3,200 deaths and almost half a million injuries per year.
In addition to the terrible toll in human lives, distracted driving costs society $129 billion per year in property damage and medical care. Companies with service fleets are especially vulnerable to these impacts. Losses ring up quickly when there is a culture of texting while driving among employees. When distracted driving was suspected in several crashes that negatively impacted a growing roofing company in Louisiana, management decided to take action. They didn't want to lose good employees to injury or death, or to discipline and termination. They realized that they would have to actually change the culture that could have been encouraging this dangerous behavior, and what they did, by implementing the ORIGOSafe system, achieved everything they needed, and moreover changed the behavior of their vehicle operators. They became safer drivers, better employees, and embraced it.
What is ORIGOSafe? Put simply, it's a technology developed by Virginia-based ORIGO that keeps the cell phone out of the driver's hands while driving and its screen out of his sight. It is a fully integrated, patent pending solution that requires drivers to dock their phone in order to start the vehicle. This ignition interlock system requires the driver to insert their smartphone into the docking station prior to starting the vehicle, effectively making the smartphone a secure password-protected second key. Similar in design to a classic cassette tape deck, the driver's smartphone is connected into the ORIGOSafe port and a green light appears indicating that the vehicle can be started. In addition to charging the smartphone while it's plugged in to the ORIGOSafe, the user can still answer voice calls over Bluetooth and have a hands-free call using a headset. However, the ability to send text messages is no longer available since the touchscreen and keyboard are completely covered by the ORIGOSafe. The system is simple to install and manage, giving employers peace of mind knowing that their driver is safe and focused behind the wheel.
The story of Gabriel Garcia and his family business is one of hard-earned success and achieving the American Dream. Gabriel Garcia came to the United States in 1987 following civil strife in his homeland of El Salvador. With the language barrier and other challenges that face most immigrants, securing employment was difficult, in spite of Gabriel's work ethic and dedication. In 1992, with a handful of workers, he struck out on his own in Prairieville, Louisiana and grossed $60,000 that year.
By putting his customers first and offering consistent, high-quality installation, Gabriel's company grew rapidly at 30% per year over the next four years. By 1996, the company was at a point that professional management was needed to administer operations. Over the succeeding years, product and service offerings were expanded to serve more customers and fulfill more roofing needs throughout the Baton Rouge area. Both roof replacement and sheet metal divisions were added, as well as a sister company focusing exclusively on commercial contracts, Garcia Roofing and Sheet Metal, Inc. Since 1992, the Garcia business group has been one of the largest roofing contractors in the state of Louisiana, servicing over 1600 customers a year with 25 employees. Garcia Roofing installs a variety of shingle roofs, slate roofs, Spanish tile roofs, and metal roofs.
Rapid growth and success comes with its share of headaches, and with the availability and temptation of new 'smartphones' with text messaging capability, distracted driving became a potential problem for the company. It threatened to erode the hard-won success and profitability of the Garcia enterprises and endanger their valued employees whom the Garcias proudly refer to as their 'craftsmen' and hold in high regard.
In the 12 months before the Garcia business group implemented the ORIGOSafe system, there were more than five (5) vehicle crashes, costing the company in excess of $300,000 in property damage, lost time, insurance and medical costs. Valued employees had to be terminated or disciplined, an unpleasant business for any management team.
"Ours is a very socialized business; we've been in business for 23 years, and we have 25 employees, outside salesmen working out of the office almost all the time, often spending their entire day on the road," says Andrew Goldberg, Residential Team Leader for Garcia. "There's lots of contact, and consequently lots of potential distractions," he adds, "So we became alarmed when we began to experience a few accidents, all of which seemed to happen in one year."
Although the cause of the accidents wasn't clear, Garcia management wanted to make sure that distracted driving could be eliminated as one possible cause. If employees were being distracted by their cell phones, they reasoned, that source of distraction had to be mitigated. "We wanted to do something to change that behavior right away," Andrew says. "But it had to be the right solution. Fred and I both realized that education had to be part of it, that we couldn't just force a solution that would be unacceptable to our employees. That's when Fred learned about Origo online. It looked right, but before we installed or implemented it company-wide, we had to be sure that we would be comfortable with it ourselves."
Fred Garcia, the owner, and Andrew Goldberg quietly installed it in their own vehicles first. "We installed it first in our truck, and tested it for a few weeks," he says. "We kept it installed in our personal vehicles. We were very pleased to learn that it did not create a restriction or a problem by preventing communication. That was very important to us, because our salespeople are communicating constantly. We want them to do it safely, but at the same time, without impacting their productivity in any way."
Once they were satisfied that it would work, ORIGOSafe was installed in all of the company vehicles. As expected, it took a little getting used to. "We discovered that the breakdown, in terms of acceptance, involved three distinctly different groups," Andrew says. "There were those who accepted it right away; then there were those who complained at first, but then adjusted; and lastly there were a very small percentage who refused to accept it, and had to be watched carefully. A couple of people were disciplined, but I emphasize that nobody was fired, and in a short time, it was accepted company-wide."
Once ORIGOSafe was implemented at the Garcia vehicles, the number of crashes dropped to zero – and stayed there. In the 12 months since implementation, on the first anniversary of using the system, there have been no crashes, and only two (2) employees disciplined for having an additional, and unauthorized, phone in the vehicle; but overall a remarkable turnaround.
But what did it cost the Garcia group to effect this change?
The entire implementation cost of ORIGOSafe in the fleet vehicles was less than $20,000 total. The Garcia management calculated that the system paid back 22.7 times what they invested in the first year in cost savings and zero accidents, a ROI of 2200%! And in an estimated 16-day payback period. "And in the longer view, the savings in insurance costs alone and the discounts for having this system installed has been significant," Andrew adds. "This is the way to go."
Perhaps the greatest benefit to the Garcia companies has also been the long-term benefit, the best kind; according to Andrew, "ORIGOSafe implementation did certainly have a positive effect on safety and did prevent texting while driving; however, the positive psychological aspects of changed behaviors were a significant factor. The overall safety culture of the company was changed; our drivers think more in terms of being safer drivers, so everyone wins. I cannot emphasize enough how important we feel that the change in mind-set is, going beyond simple compliance."
Clay Skelton, Founder and President of ORIGO, says "We are very passionate about providing a true solution to the distracted driving epidemic. Early on, it became obvious that too many drivers are willing to take extreme risks to communicate via text while driving a car or truck, with little regard for safety. For those companies that have implemented our solution, they have not only saved lives and money, but have actually changed the mind-set of their drivers to a more responsible and safety-conscious awareness of their own driving habits. And we feel that this is the greatest benefit of all."
For more information about ORIGOSafe, visit http://www.DriveOrigo.com; and to learn more about the Garcia group of companies, visit http://www.garciadidmyroof.com.
Email: Info (at) DriveOrigo (dot) com
#####