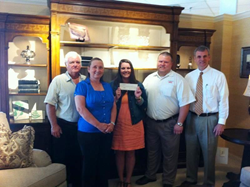 This donation will go a long way in helping families with respite care at Megan's House.
Valdosta, Ga. (PRWEB) April 08, 2015
Easter Seals Southern Georgia received a donation of $5,000 from Turner's Fine Furniture. Turner's Furniture is celebrating their 100 year anniversary by giving away a total of $100,000 in free furniture to individuals and a total amount of $100,000 to local qualified charities this year. Patricia Gillean of Greenville, Fl. was chosen this month as the winner in Valdosta and she chose Easter Seals Megan's House as her charity of choice. Mrs. Gillean has a grandchild who has Autism and appreciates the services Easter Seals provides to support families in the area. The donation will help to provide respite care at the Valdosta Megan's House for families in need.
To enter the drawing stop by any Turner's Fine Furniture location or Turner's Budget Furniture location now through December 2015 and register in-store to win. For more information go to:
http://www.turnerfurniture.com/100-year-anniversary.php
Megan's House is a respite home for children ages 0-17 who have developmental disabilities, autism, or are medically fragile. Megan's House is a critical service to local families of children with special needs and provides a well-deserved break with the peace of mind that their child is being cared for by qualified professionals. Megan's House was established in 2005 and now provides respite services in three locations: Albany, Valdosta, and Waycross.
Easter Seals Southern Georgia provides exceptional services to ensure that all people living with disabilities or special needs and their families have equal opportunities to live, learn, work and play in our communities. For more information call us at 229-439-7061 or go to our website at: http://www.easterseals.com/southerngeorgia/