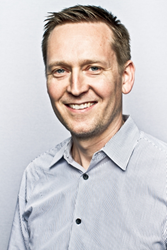 Jason will fill a vital position, leading our efforts at Consumer Reports to reimagine the brand's digital experience to have a more vibrant impact on consumers' lives.
Yonkers, NY (PRWEB) April 06, 2015
Consumer Reports, the largest and most trusted consumer organization in the world, has named Jason Fox as Vice President, Digital. In his new role, Mr. Fox will lead efforts to strengthen the organization's digital products, forge digital partnerships to expand reach, and bring Consumer Reports to new communities.
Mr. Fox will report to Leonora Wiener, Vice President of Brand, Product Strategy and Integration at Consumer Reports.
"Jason Fox will fill a vital position, leading our efforts at Consumer Reports to reimagine the brand's digital experience to have a more vibrant impact on consumers' lives," Ms. Wiener said. "His talent and exceptional experience has already produced many award-winning, industry-recognized digital products."
Marta Tellado, president & CEO, added that "effective digital communications are imperative so that we as the country's leading consumer organization can continue to advance our mission and help the next generation of consumers become change agents in a highly complex, rapidly evolving marketplace. Jason will play a lead role by developing our digital portfolio."
Prior to joining Consumer Reports, Mr. Fox was the global head of product for Reuters News Agency, the world's largest multimedia news organization. At Reuters, he led a complete rethink of Reuters' flagship business-to-business product, Media Express. He also launched several innovative products, including Reuters Live Online, Reuters Access, Reuters Essential Video Archive, white-label solutions for the Olympics and World Cup, as well as a new business, Reuters-TIMA Location Services.
Before Reuters, Mr. Fox held several senior-level positions at Time Inc. where he helped reinvent leading digital properties including TIME, Fortune, and LIFE, and built critical partnerships with Facebook, Twitter, Google, Tumblr, and many others.
"Consumer Reports' mission to create a safer, more transparent, and fairer marketplace for all has never been more relevant," said Mr. Fox, who is a longtime subscriber himself. "I see tremendous opportunities to bring new digital products to market and transform the organization's online offerings to achieve this goal, as well as reach new audiences and communities."
About Consumer Reports
Consumer Reports is the world's largest and most trusted nonprofit, consumer organization driving marketplace change to improve the lives and amplify the voices of consumers. Founded in 1936, Consumer Reports has achieved substantial gains for consumers on food and product safety, financial reform, health and other issues. The organization has advanced important policies to cut hospital-acquired infections, prohibit predatory lending practices and combat dangerous toxins in food. Consumer Reports' independent testing and rating of thousands of products and services is made possible by its member-supported 50 plus labs, state-of-the-art auto test center and consumer research center. Consumers Union, a division of Consumer Reports, works for pro-consumer laws and regulations in Washington, D.C., the states, and in the marketplace. With more than eight million subscribers to its flagship magazine, website and other publications Consumer Reports accepts no advertising, payment or other support from the companies whose products it evaluates.