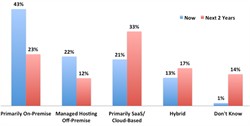 BOSTON (PRWEB) April 07, 2015
In the beginning of 2015, RSG conducted a survey targeted toward web content management professionals, including those who subscribe to our WCM evaluation research. You can now benefit from the feedback of 300+ professionals (non-vendors) who deal with everyday Web CMS-related challenges.
On April 16, RSG Founder Tony Byrne will share the survey results in a fast-paced, 30-minute webinar: Web CMS Customer Survey Findings – Register Here.
Date: Thursday, April 16, 2015
Time: 9:00 AM PT / 12:00 PM EST / 16:00 UTC/GMT
About the topic:
RSG conducted an online survey to obtain practitioners' perspectives on key web content and experience management software-related themes, including common use cases, tools and vendors, implementation patterns, and challenges.
We'll discuss key survey findings in the following categories:

Satisfaction with WCM technology
Extent of current and future transitions to the cloud
Major technical organizational challenges
About:
Real Story Group provides research and advisory services to help customers select and optimize the right digital workplace and marketing technologies. Through highly detailed technical evaluations, Real Story Group helps sort out the complex technology landscape, so that customs can minimize time and effort identifying best-fit solutions. Real Story Group evaluates Web Content Management, Digital & Media Asset Management, ECM & Cloud File Sharing, Enterprise Collaboration & Social Software, Enterprise Mobile Technology, Portal Technology, and Marketing Automation & Social Technologies.
To retain its independence as an impartial analyst firm, Real Story Group works solely for solutions buyers and never for vendors.