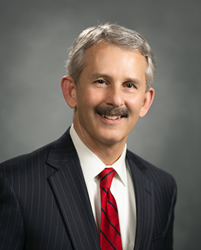 Our approach is investing as a team with one vision.
WASHINGTON, D.C (PRWEB) April 06, 2015
ICMA-RC's Chief Investment Officer Wayne Wicker has received recognition from two investment industry organizations for his leadership and unique contributions to investment management, asset allocation strategy, and defined contribution plans.
Institutional Investor — Investor Intelligence Network nominated Mr. Wicker this past January for its second annual Investor Intelligence Awards in the Defined Contributions category, recognizing the most outstanding and innovative Corporate & Insurance Plan Sponsors in North America.
In late 2014, Mr. Wicker was selected as a finalist for Chief Investment Officer's (CIO) prestigious "Industry Innovation Award" in the Defined Contribution Plan category. According to CIO, "The award highlights the most innovative and positive work being done for, and at, the world's largest pensions, endowments, foundations, and sovereign wealth funds." CIO's editorial team seeks to identify innovative approaches and those who execute them, match new challenges with new ideas, and get results.
"In 2015, we are looking to further implement and expand our efforts to communicate our thoughts and perspectives on important market themes, retirement planning issues, and long-term strategies we think might work well for public sector employees," Mr. Wicker said.
"Our fixed-income, equity, mutual fund, risk management, and credit research teams deserve much of the credit for our ongoing efforts to create innovative products and investment strategies for public sector retirement plan sponsors. Our approach is investing as a team with one vision," Wicker explained.
Mr. Wicker oversees a team of more than 30 investment professionals at ICMA-RC, 20 of whom hold CFA designations. Along with Mr. Wicker, each team leader in ICMA-RC's Investments division has more than two decades of investment experience and helps foster a culture of innovation.
About ICMA-RC
Founded in 1972, ICMA-RC is a non-profit independent financial services corporation based in Washington, D.C. focused on providing retirement plans and related services for more than one million public sector participant accounts and more than 9,000 retirement plans. Our mission is to help build retirement security for public sector employees. We deliver on our mission by focusing on service, quality and value. All of our retirement programs, administrative services and educational tools have been developed specifically for public sector retirement plan administrators and participants. For more information, visit http://www.icmarc.org. AC: 0415-7696