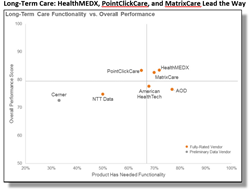 ... many providers are starting to see today's big challenges as tomorrow's big opportunities. - Pam Pure HealthMEDX CEO
Ozark, MO (PRWEB) April 16, 2015
Missouri-based HealthMEDX® had the highest score among software developers in the long-term care market, according to the recently released KLAS Research 2015 Performance Report, entitled "The Care Continuum: Payment Reform Creates Unmet Demands". In addition to performance and functionality scores, the report lists extensive vendor ratings, analysis and survey data gathered from providers across the long-term and post-acute care (LTPAC) sector of the healthcare industry.
HealthMEDX CEO Pam Pure said that tight care coordination is becoming more important and more challenging as post-acute services consolidate and diversify by adding assisted living, home care and other ancillary long-term offerings. Additionally, she noted that mobile EMR and telemedicine technologies have quickly become a necessity for organizations that are managing care across multiple settings and locations.
"It's gratifying to see that the hard work of our HealthMEDX team impacting on our customers' experience," Pure said. "The report shows that the majority of long-term care organizations will likely expand post-acute services. That fact, along with the widespread plans to add analytics and telemedicine, indicates many providers are starting to see today's big challenges as tomorrow's big opportunities. More than ever, an organization's ability to coordinate complex care is the key to supporting a referral-based business model and building profitable partnerships with health systems and payers."
The 122-page KLAS report includes extensive commentary from software users on current market challenges and the utilization of their current EMR products. The insights contained serve to outline the future technology and service strategies of care providers in the LTPAC market. Some of the statistical highlights included:

70 percent of all long-term care providers surveyed indicated that they have planned or considered expansion of their post-acute services
Nearly 4 out of 5 LTPAC organizations surveyed listed Analytics capabilities as their next technology purchase
44 percent of providers were addressing hospital interoperability via health information exchanges, while only 1 in 5 were including continuity of care document (CCD) transfer in their strategy
The comments contained in the customer narrative sections closely mirrored the report's statistical findings. Of the 96 healthcare organizations surveyed, many respondents noted the challenges faced in supporting acute-care partners in achieving quality measures. Among the most important aspects to establish and maintain that relationship is interoperability, which also critical to coordinating care transitions and reducing hospital readmissions.
To learn more about the Vision EMR solution and our mobile iCare platform for physician engagement, visit http://www.healthmedx.com.
# # #
About HealthMEDX
HealthMEDX is a leading developer of EMR solutions for providers in the long-term, post-acute, home care and hospice settings. Our integrated HealthMEDX Vision® platform streamlines clinical, financial and reporting for organizations of any size, while innovative mobile and analytics functionality delivers operational value for end users, executives, and physicians. For more information email info(at)healthmedx(dot)com. Follow HealthMEDX on social media sites Twitter, Facebook and LinkedIn.
About KLAS
KLAS is a research firm on a global mission to improve healthcare delivery by enabling providers to be heard and to be counted. Working with thousands of healthcare executives and clinicians, KLAS gathers data on software, services, medical equipment, and infrastructure systems to deliver timely reports, trends, and statistical overviews. For more information, email marketing(at)KLASresearch(dot)com, or call 1-800-920-4109 to speak with a KLAS representative.