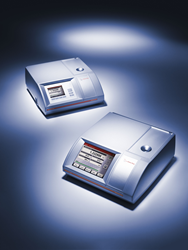 Ashland, VA (PRWEB) April 07, 2015
The new flow cell, built from chemically resistive PFA, safely delivers corrosive chemicals to the refractometer prism. Less than 2 ml of sample volume is required for accurate measurements. A Kalrez O-ring prevents the chemicals from leaking out away from the prism, while reducing evaporation of volatile chemicals and solvents. The Abbemat Performance Plus line can be equipped with an XSample122 or a peristaltic pump, delivering sample to the flow cell while reducing human contact with corrosive chemicals.
The Abbemat refractometer series from Anton Paar offers a quick and easy solution for high-precision measurements of highly corrosive chemicals. Internal Peltier elements precisely control sample temperature for quick, accurate determination of refractive index and concentration.
Learn more about the features of the Abbemat Refractometers here.