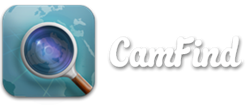 (PRWEB) April 08, 2015
"CamFind" was featured on NewsWatch as part of its monthly AppWatch, which takes a look at the latest and coolest applications on the market for iOS, Android, and Windows. Mallory Sofastaii, a technology expert and special reporter for NewsWatch, conducted the review and shared with viewers how this is a fun search application for Google Glasses.
Last year NewsWatch showcased an application called CamFind, which took a phone's camera and turned it into a live search function. With the app, users were able to take a picture of a real life object – maybe a pair of shoes - and learn more about it - who makes it, the cost, and where they could find it. Well, since then they've come out with a new version of the app that's compatible with Google Glass.
When users have the glasses on and they see an item they want to learn more about – let's say a dog breed they're interested in – they can say "Ok Glass, recognize this". CamFind automatically generates what the breed is, their temperament, and how long their lifespan is all in a matter of seconds. It even works on movie posters for quick information while the user is on the go. Instead of scrambling to look up information on a phone or tablet, users can simply tap the side of your glasses and it will pull up all relevant information – what time the movie is, what it's rated, and a brief synopsis. It basically turns the concept of Google Image Search into a seamless knowledge gathering experience while interacting with the world. It's a very unique app that's making it easier to search and learn about everyday items without the hassle of having the user's face buried in a smartphone.
To learn more, visit http://www.camfindapp.com today.
About NewsWatch
NewsWatch is a weekly 30-minute consumer oriented television show that airs on the History Channel, FYI Network, and ION Network. NewsWatch regularly features top technology products and services, mobile applications for iOS, Android, and Windows devices, unique and beautiful travel destinations around the world, health and medical tips, and entertainment interviews on the show. NewsWatch airs on the History Channel at 6:00 – 6:30 AM ET/PT and on the FYI Network from 7:00 – 7:30 AM ET.
NewsWatch is located in the greater Washington, DC area and has been on air for over 25 years. For more information or to watch the most recent episode, visit http://newswatchtv.com/appwatch.html.