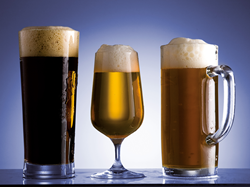 Ashland, VA (PRWEB) April 09, 2015
Anton Paar, the leading supplier of process and laboratory instruments in the brewing industry with more than 20 years of experience, has released a new product especially designed for craft brewers. The Beer Monitor Basic combines the well proven sound velocity technology with an innovative new formula to determine alcohol, original extract and real extract of finished beer directly in the line.
Designed for craft beers, the system comes preconfigured, is set up within minutes and is totally maintenance-free. Measuring the alcohol content with an accuracy of 0.1 % v/v, the original extract with an accuracy of 0.1 °Plato and the real extract with an accuracy of 0.2 °Plato the Beer Monitor Basic allows craft brewers to monitor the product continuously. Out-of-specification product is avoided, beer quality is improved and product consistency assured.
A simple and intuitive touchscreen interface makes it easy to set up instrument and product parameters. In addition, users can visualize their process and display graphical trends with just a few screen touches. By setting lower and upper limits on measurement values, alarms can be visualized and triggered using digital or relay outputs.
Modular and scalable, the Beer Monitor Basic can be upgraded to a full Beer Monitor in the future. Users can start with what they need and add modules at any later date, whether for expanding their production or controlling their brewing process. Optional inputs for additional parameters like CO2 and oxygen are readily available.
The Beer Monitor Basic integrates with other equipment and controls via analog output or via a variety of optional fieldbus connections. The bypass-free installation features a robust and durable sensor design without moving parts and, again, requires absolutely no maintenance.