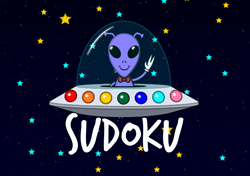 This is such a version of a classic game!
(PRWEB) April 09, 2015
"Sudoku in Space" was featured on NewsWatch as part of its monthly AppWatch, which takes a look at the latest and coolest applications on the market for iOS, Android, and Windows. Joe Troohey, the host of AppWatch and technology expert, conducted the app review and shared with viewers how this application is a fun and modern version of Sudoku.
The classic game of Sudoku was originally created in 1892. And since then, millions of people have tested their brains in these logic games. Well, there is a new application that puts a fresh spin on the age-old puzzle game. It's called Sudoku in Space and it was originally developed by a husband and wife team, combing their equal love of Sudoku and space and creating something that's more colorful and playful than regular Sudoku.
The idea is to help Allen the Alien get back to his home planet by solving Sudoku puzzles. Instead of playing with regular numbers, users have the option to play with colors. With each puzzle solved, the user is awarded stars. The more stars the user gets, the closer they are to bringing Allen home. The gameplay is almost endless with over 750 puzzles accompanied by space-themed graphics and music. Sudoku in Space is free but if the user wants to play without ads, it's only 99 cents. Sudoku in Space is currently compatible with iOS, Android, and Amazon devices.
To learn more, visit http://naplandgames.com/sudokuinspace/ today.
About NewsWatch
NewsWatch is a weekly 30-minute consumer oriented television show that airs on the History Channel, FYI Network, and ION Network. NewsWatch regularly features top technology products and services, mobile applications for iOS, Android, and Windows devices, unique and beautiful travel destinations around the world, health and medical tips, and entertainment interviews on the show. NewsWatch airs on the History Channel at 6:00 – 6:30 AM ET/PT and on the FYI Network from 7:00 – 7:30 AM ET.
NewsWatch is located in the greater Washington, DC area and has been on air for over 25 years. For more information or to watch the most recent episode, visit http://newswatchtv.com/appwatch.html.