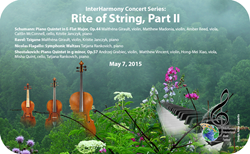 Ravel described "Tzigane" revealingly as "a virtuoso piece in the style of a Hungarian rhapsody."
New York, NY (PRWEB) 7 April, 2015 (PRWEB) April 08, 2015
Each year, Music Director Misha Quint brings together a handpicked group of young virtuosi to perform with him and members of IIMF's distinguished faculty at Weill Recital Hall at Carnegie Hall, giving the public a sneak peak at the next generation of great classical performers. The program is laid out symmetrically. The students play before the intermission, the professors afterward; each group will perform an ensemble work and a solo piece. As the professors push musical boundaries forward with new, exciting pieces, the students delve into the Romantic past. http://www.interharmony.com
The evening begins with Schumann's epochal "Piano Quintet in E-Flat Major, Op.44", which, by bringing the piano soloist together with a string quartet, almost single-handedly invented the genre. The string quartet acts as miniature orchestra, encircling the pianist in a tightly written musical embrace. With these reduced dimensions, Schumann created a form that could bring the epic emotional sweep of a symphony into the intimacy of a parlor room. Dedicated to his wife, the concert pianist Clara Schumann, and published on her birthday, this piece, perhaps the best Schumann ever wrote, was extremely personal, a portrait of his beloved. Performers Kristie Janczyk (piano); Maïthéna Girault (violin), Matthew Madonia (violin), Amber Reed (viola) and Caitlin Quinn McConnell (cello) – are Schumann's own voice: his joy, his passion and despair.
Ms. Girault takes center stage for the following piece: Maurice Ravel's "Tzigane". Ravel described this work revealingly as "a virtuoso piece in the style of a Hungarian rhapsody." This play of authenticity and exoticism is central to its charm, at once gripping and histrionic. In ten emotionally charged minutes, Ravel expands on the fiddle fireworks of the gypsy style using all the possibilities of Late Romantic chromaticism and development. Ornaments, doubles stops, left-hand pizzicati, harmonics, sliding and scratching: Ravel uses a kind of precise imperfection to unlock unheard of levels of difficulty from the instrument. In the fiery young Québécoise Maïthéna Girault, however, the piece has met its match. She prosecutes her task with the fresh ruthlessness of youth. She will be accompanied by Kristie Janczyk (piano).
Tatjana Rankovich (piano), IIMF faculty member since 2011 and long-time Naxos recording artist, will push the limits of Romanticism far beyond what even Ravel could have imagined with Nicolas Flagello's "Symphonic Waltzes". Born into a musical family in New York City, Flagello was composing and performing publicly by the age of ten. An accomplished pianist, he wrote a number of works for the instruments, including three concertos and a sonata (all of which have been recorded by Ms. Rankovich): "Symphonic Waltzes" was his first extended work for piano solo. Written in 1958, they recall the dark gleam of "fin-de-siècle" Paris. Ms. Rankovich premiered them herself in 1992, shortly before the composer's death, in this very hall.
Like Schumann's "Quintet", a major inspiration, Shostakovich's "Piano Quintet in g minor, Op. 57" spans the distance between two worlds: the public world of Soviet officialdom, censorship and ideology and the private world of his very personal artistry and self-expression. The quintet form offered Shostakovich, like Schumann, the opportunity to bring the power and scope of his symphonies into a more intimate frame, where he could work with greater seriousness and less external pressure. Here, in the relative safety that private instrumental music offered, he could express emotions it was impossible to name publicly. It proved one of his most popular works, earning him the coveted Stalin Prize along with 100,000 rubles, said to be the highest sum ever paid for a work of chamber music. The work is presented by an ensemble of celebrated, international musicians, overcoming, as Shostakovich did, the political tensions of our own times in beautiful music: Violinists Andrzej Grabiec and Matthew Vincent; violist Hong-Mei Xiao; festival founder, cellist Misha Quint; and pianist Tatjana Rankovich. More information including performer biographies can be found here: https://www.interharmony.com/interharmony-concert-series