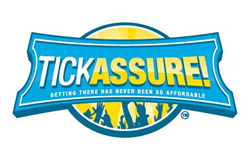 "I am so thankful to TickAssure! for affording me the opportunity to bond with my daughter over this once-in-a-lifetime experience without the financial burden of splurging on exorbitantly priced tickets..." - Ed Johnson, college basketball fan
Dallas, TX (PRWEB) April 06, 2015
Dallas-based championship event experience startup TickAssure! announced today the first success story of its innovative new concept that provides affordable access to championship events to fans who are routinely priced out of the market due to exceedingly high ticket prices. Ed Johnson and his 12-year old daughter Hudson experienced the trip of a lifetime at the Final Four in Indianapolis this past weekend after Johnson aptly predicted Michigan State University to advance to the Final Four, purchasing two TickAssure! Ticket Protection Plans for Michigan State for a total of just $71.24.
Though a rabid college basketball fan, Johnson was not planning on attending the Final Four this year. But when he came upon an opportunity to experience college basketball's championship tournament with his basketball-crazed daughter for less than the cost of a night out for dinner with his family, those plans changed. Johnson's Ticket Protection Plans covered the cost of his game tickets if Michigan State happened to advance to the college basketball tournament semifinals, and when the Spartans knocked off Louisville to advance to the penultimate round, Johnson and his daughter were Indianapolis-bound thanks to TickAssure!.
A longtime Michigan State fan, Johnson felt the team was underrated as a #7 seed in the tournament. After the Spartans defeated Virginia in the third round, Johnson visited TickAssure.com and decided to pull the trigger when he saw that a Ticket Protection Plan for Michigan State was only $35.62 for each ticket to the Final Four. "I was glued to the TV watching the Spartans advance through the opening rounds," said Johnson. "When they played Louisville, I was a bundle of nerves. I was hanging on every shot and rebound like it was the end of the world. The next thing I know, they've won the game, and it sinks in – I've got two tickets to the Final Four!"
Johnson's Ticket Protection Plans covered the entire cost of his Final Four tickets, allowing him and his daughter to see the Spartans play for just the $71.24 cost of his Ticket Protection Plans. According to secondary market ticket aggregator TiqIQ, the average price for a Final Four ticket on the Monday after the four teams qualified for the Final Four was $1,081 per ticket.
"My daughter and I share a love of college basketball, and the icing on the cake is that she is a longtime Wisconsin fan," Johnson added, referring to one of the other Final Four participants who the Johnsons were able to watch live while in Indianapolis. "I am so thankful to TickAssure! for affording me the opportunity to bond with my daughter over this once-in-a-lifetime experience without the financial burden of splurging on exorbitantly priced tickets, and we were able to be there when Wisconsin pulled off one of the most unlikely upsets in Final Four history. That's a memory we will be able to cherish forever."
Due to the enormous demand for post-season sporting event tickets and the resulting skyrocketing prices on the secondary ticket market, many of sports' most die-hard fans are often priced out of the market during the most exciting and meaningful time of a team's season. According to TiqIQ, prices for this year's Final Four were the most costly since at least 2011.
TickAssure! utilizes a three-step process – 1) Buy your plan 2) Cheer your team 3) Celebrate victory – to allow rabid sports fans an avenue to purchase championship event tickets at prices they can afford. Fans can purchase a Ticket Protection Plan at any time prior to or during the regular season. Prices for the Ticket Protection Plans, which are underwritten by A.M. Best "A" or better rated insurers, change weekly during the season based on real-time odds of that team advancing to the semifinals and championship game. When the team advances, the fan then acquires tickets from a primary or secondary market ticket sales outlet and is rebated the cost of those tickets, allowing fans to save hundreds, if not thousands, of dollars.
TickAssure! Founder Todd Armstrong knows firsthand the heartbreak of missing out on a beloved team's magical moment. A die-hard Auburn football fan, Armstrong was elated when the Tigers advanced to college football's national championship game in 2014. However, his exhilaration quickly turned to disappointment when he discovered that ticket prices far exceeded what he could afford. "I was heartbroken when I had to break the news to my young son that we couldn't attend the championship game," revealed Armstrong. "My experience led me to realize that the most fervent fans are often the ones left behind when it comes time to travel to championship games and cheer on their team. That experience is what ultimately led us to this concept that allows sports enthusiasts to bypass the inflated secondary market ticket prices and once again gain access to these once-in-a-lifetime opportunities to see their team raise the championship trophy."
Armstrong and his team are currently putting the finishing touches on the TickAssure! platform and plan a national launch for the college football season. For more information, please visit http://www.tickassure.com.
About TickAssure!
TickAssure! is a forward-thinking new concept that applies the tried and true methods of consumer protection developed by the insurance industry to the highly speculative ticket sales industry. TickAssure! addresses a major problem in the today's ticket market by eliminating one of the greatest hindrances that keep some of the most dedicated and passionate sports fans priced out of the most important games of the season.
With TickAssure!, those exorbitant ticket costs are mitigated through the purchase of a TickAssure! Ticket Protection Plan, a one-of-a-kind ticket price indemnity product that covers the cost of semifinal and championship game tickets. If a fan believes that a certain team will advance to the semifinal or championship game, he or she can pay a one-time premium that will ensure the fan against skyrocketing ticket prices, allowing the fan to often times pay far less than the actual face value or exceedingly-high secondary market prices for game tickets.
http://www.tickassure.com | facebook.com/TickAssure | twitter.com/tickassure