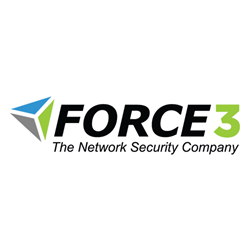 Force 3 is proud to be recognized for its commitment to training and education.
Crofton, Maryland (PRWEB) April 06, 2015
Force 3, The Network Security Company, today announced it has been named to The Channel Company's CRN® Tech Elite 250. This annual list recognizes an elite group of IT solution providers that have invested in the training and education needed to earn the most advanced technical certifications from leading vendors.
In compiling the list, The Channel Company's research group and CRN editors collaborated to assess the most customer-beneficial technical certifications in the IT channel. These technical certifications—from vendors including Cisco, Citrix, Dell, EMC, HP, IBM, NetApp, Microsoft, VMware and Symantec, among others—have enabled solution providers to deliver an outstanding level of premium products, services and support to their North American customers.
Force 3 is committed to ongoing and rigorous training and education, as evidenced by the robust portfolio of elite IT industry certifications it holds. Already this year, Force 3 has added many new certifications, including the Cisco Certified Internetwork Expert Data Center (CCIE-DC), the VMware Certified Design Expert in Network Virtualization (VCDX-NV), the Certified Wireless Network Expert (CWNE), the Palo Alto Certified Network Security Engineer, and the Splunk Certified Architect certification.
"The solution providers selected for our annual Tech Elite 250 have demonstrated a commitment to excellence and gained industry credibility by investing in the IT certifications necessary to deliver exceptional service to their customers and stay competitive," said Robert Faletra, CEO, The Channel Company." These featured solution providers have enhanced and strengthened their partnerships by earning some of the most difficult certifications from some of the most prominent names in IT. We congratulate these organizations and look forward to their continued success."
"Commitment to ongoing research, education and development is at the foundation of Force 3's mission to provide customers with the most advanced, secure solutions available," said Jason Parry, Vice President of Client Solutions at Force 3. "We are proud to be recognized for that commitment among CRN's Tech Elite 250."
Coverage of the Tech Elite 250 will be featured in the April issue of CRN, and online at http://www.CRN.com.
About Force 3
Force 3 is the network security company, providing infrastructure services to design, deploy, support and maintain their clients' technology needs. Their team of passionate experts includes industry leading security professionals, with the highest levels of certifications, proficiencies and experience. Force 3 boasts the only dedicated support service offering in the Federal market, ensuring optimal uptime to keep your infrastructure running efficiently. Whether an enterprise network, mobility, collaboration, data center or next-generation solution – Force 3's highly trained engineers and strategic partnerships deliver secure solutions for agencies who demand value and reliability.
About The Channel Company
The Channel Company, with established brands including CRN®, XChange® Events, IPED® and SharedVue®, is the channel community's trusted authority for growth and innovation. For more than three decades, we have leveraged our proven and leading-edge platforms to deliver prescriptive sales and marketing solutions for the technology channel. The Channel Company provides Communication, Recruitment, Engagement, Enablement, Demand Generation and Intelligence services to drive technology partnerships. Learn more at http://www.thechannelcompany.com.