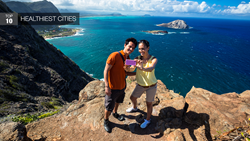 "The link between cities and health is increasingly clear. It's not enough to have a great hospital to take care of you when you're sick. The city itself can help you lead a healthier life."
(PRWEB) April 06, 2015
There are two parts to every great healthy city. The first is access to quality and affordable health care. The second is promoting and enabling a healthy lifestyle for its residents through infrastructure and amenities. With this in mind, Livability.com has named the Top 10 Healthiest Cities, 2015. These cities provide residents with exercise opportunities, good food choices and strong support networks to help live healthy lives.
Our editors looked at data compiled by the County Healthcare Rankings as well as spending data from Esri to find places with quality and affordable health care. They analyzed several measures of healthy communities such as the adult obesity rate, the percent of residents with access to healthy food and other stats. Also factored in were the number of hospitals, ratio of doctors to residents and more.
In addition, our editors looked into city infrastructure to promote healthy living, like access to farmers markets and parks, walkability, man-made amenities such as golf courses, as well as natural amenities. Additionally factored in was data from the EPA about the environmental components of a healthy city such as clean air and water.
"The link between cities and health is increasingly clear," says Livability Editor Matt Carmichael. "It's not enough to have a great hospital to take care of you when you're sick. The city itself can help you lead a healthier life."
Top 10 Healthiest Cities, 2015
1. Minneapolis, MN
2. Cambridge, MA
3. Madison, WI
4. Miami, FL
5. Bridgeport, CT
6. Arlington, VA
7. Santa Ana, CA
8. Honolulu, HI
9. Fort Collins, CO
10. Yonkers, NY