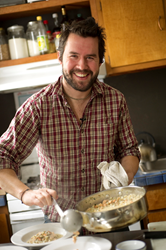 The Victory Garden's edibleFEAST is all about the farmers and fisherman and gardeners and chefs who are getting their hands dirty by growing and making things themselves..
NY, NY (PRWEB) April 07, 2015
Victory Garden's edibleFEAST, the weekly PBS series which combines the best of Edible magazines with a fresh take on community and home gardens, has been nominated for an Emmy for Outstanding Main Title and Graphic Design for its stop motion introduction to the show.
Produced by the Perennial Plate team of Daniel Klein and Mirra Fine in partnership with Edible Communities, the series focuses on the local food movement in communities across the U.S. and Canada.
"The Victory Garden's edibleFEAST is all about the farmers and fisherman and gardeners and chefs who are getting their hands dirty by growing and making things themselves," said Klein. "We wanted to capture that DIY spirit by giving the intro and the segues in the show a very hand made feel. Stop motion was the perfect way to achieve that goal. The problem was neither Mirra nor myself had much experience with stop motion."
By that point, Klein traveled to Ohio to film an episode. Fine, who was pregnant with the couple's first child, couldn't join him and instead began experimenting with stop motion to create an introduction for the show.
"Maybe it was the impending motherhood, but I started to feel inspired by simple arts and crafts, construction paper, ribbons...etc," Fine said. "Our style has always been pretty DIY – so I guess it makes sense that all the stop motion cutouts were made on our dining room table, and the sequence was shot in our basement."
"We're very proud of this well-deserved nomination for Mirra and Daniel's incredible stop motion," said Eric Thorkilsen, CEO of Edible Communities, who re-launched the iconic PBS series last year. "The show as a whole exemplifies how beautifully the local food stories in our magazines come to life on television."
Season 2 shares the local food stories of farmers, chefs, gardeners, artisans, activists and more in Minnesota; Memphis, Tennessee; Ohio; New York City; the Bay Area; Palm Beach, Florida; Madison, Wisconsin; Vancouver, Canada; New England; Omaha, Nebraska; New Orleans, Louisiana; Charlotte, North Carolina, and San Diego, California.
The Emmys will be televised live from Los Angeles on April 24.
About Edible Communities
Since its creation in 2002, Edible Communities has grown to be a widely respected leader in the local food space, distributing an average of 1.4 million copies per issue in more than 85 local communities. Through its distinctive licensing business model, individual entrepreneurs in discreet geographic areas lead the creation of hyper-local content celebrating local food culture, season by season, community by community. With engaging writing, design and photography, the brand was honored in 2011 with a James Beard Award for Publication of the Year.
Visit ediblefeast.com for expertly curated content from Edible Communities and other established voices in the food, drink and garden world. Watch full episodes from season 2 of Victory Garden's edibleFEAST at ediblefeast.com/television.
About Perennial Plate
Filmmaking couple Daniel Klein and Mirra Fine are the duo behind the Perennial Plate, a two-time James Beard award-winning documentary series about sustainable food around the world. For more information, visit theperennialplate.com.
CONTACTS:
Daniel Klein: info(at)theperennialplate.com or Kate Manchester: kate(at)ediblemedia.com.