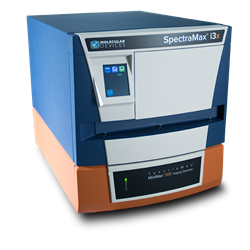 We have been developing microplate readers for 28 years. With the SpectraMax i3x, we've leveraged that experience to help researchers explore a range of applications with the performance, robustness and flexibility they need.
Sunnyvale, CA (PRWEB) April 09, 2015
Molecular Devices, a leader in bioanalytical systems for drug discovery, life science research, and bioassay development, today announced the launch of the injector-ready SpectraMax® i3x Multi-Mode Microplate Reader. Designed with today's constantly changing research priorities in mind, the SpectraMax i3x allows researchers to easily add new detection mode cartridges such as ScanLater™ Western blot. Researchers can explore cellular pathways more fully with biochemical and whole cell assays, including live cell assays, using the MiniMax™ 300 imaging cytometer. Spectral Fusion™ illumination increases sensitivity across the entire excitation range, while a cooled photomultiplier tube (PMT) improves detection in extremely low light allowing researchers to generate more data points without the need to dilute.
The SpectraMax i3x measures monochromator-based absorbance, fluorescence and luminescence with a future-ready platform that can evolve with the researcher's needs. Adding time resolved fluorescence, HTRF® or western blot detection simply requires the user to exchange a detection module. The dual auto injector module (available October 1, 2015) brings fast, flash kinetic assays to the system.
"We have been developing microplate readers for 28 years. With the SpectraMax i3x, we've created a system that leverages that experience to explore a range of applications including cellular pathway analysis and protein activation and expression with the performance, robustness and flexibility that you need to unleash your research," says Brian Quast, Director Bioresearch - Product Management, at Molecular Devices.
About Molecular Devices, LLC
Molecular Devices is one of the world's leading providers of high-performance bioanalytical measurement systems, software and consumables for life science research, pharmaceutical and biotherapeutic development. Included within a broad product portfolio are platforms for high-throughput screening, genomic and cellular analysis, colony selection and microplate detection. These leading-edge products enable scientists to improve productivity and effectiveness, ultimately accelerating research and the discovery of new therapeutics. Molecular Devices is committed to the continual development of innovative solutions for life science applications. The company is headquartered in Silicon Valley, California with offices around the globe.
For more information about the complete product portfolio, visit http://www.moleculardevices.com.