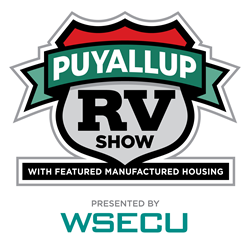 There is no better place to comparison shop local dealers and see all the new RVs in one convenient location..
Puyallup, Washington (PRWEB) April 08, 2015
Located at the Washington State Fair Events Center/Puyallup Fairgrounds (110 9th Ave SW), this year's Grand Puyallup RV Show will highlight special RV pricing, a new "Field of Dreams" used RV area and fun activities for the family.
Sponsored by WSECU for the fourth year in a row, and produced by the MHRV Show Association, The Grand Puyallup RV Show presents ample opportunity for guests to explore the show's "Home Fun Deals" -- a chance for everyone to receive amazing offers.
With the goal of preserving some of the best park lands in the Northwest, MHRV and WSECU will each donate $1 to Washington State Parks for a total of $2 per ticket from ticket purchases at the gate.
"There is no better place to comparison shop local dealers and see all the new RVs in one convenient location," said Dave Helgeson, MHRV Show Director. "Why is this show so grand? We will be offering special RV show pricing, factory incentives and fantastic financing options in order to make your traveling dreams come true."
Back by popular demand, this year's show will offer three on-site manufactured model homes to tour, perfect for a vacation or retirement home. During this special event, attendees will learn about the vast array of home options, site locations and financing alternatives.
Gary Bunzer, the much-loved RV Doctor, will highlight the seminars with four useful presentations: Top 10 Maintenance Tips, Technically Choosing Your Next RV, RV Doctor's RV Facts of Life and 120-Volt AC Electrical System Safety. In addition, a full lineup of different seminar topics will cover everything from great RV destinations, proper towing procedures, different types of camping memberships, free camping, "boondocking" and financing.
Many of Western Washington's top RV dealers will be at this year's show including Apache Camping Center, Baydo's RV Center, Clearview RV, DeTray's Custom Housing, DeTray's LLC, Fife RV & Auto, Five Star RV, Freespirit Recreation, Pacific Travel Center, Paul Evert's RV Country, Poulsbo RV, Purple Line, LLC, South Hills RV, Sumner RV Center, Tacoma RV Center, and the Valley RV Supercenter.
The show's hours are Thursday and Friday from 11 a.m. to 8 p.m., Saturday from 10 a.m. to 8 p.m. and Sunday from 10 a.m. to 5 p.m. The Grand Puyallup RV Show admission tickets are available in advance or at the gate: $8 (online) or $10 (at the gate) for adults, $7 (online) or $9 (at the gate) for seniors (62 or older) and children 17 or younger are free with paid adult. Free parking will be available all four days at the Puyallup Fairgrounds Blue Parking Lot.
About MHRV Show Association
The MHRV Show Association was formed in 1966 for the express purpose of promoting the RV and manufactured home industries. MHRV showcases the best and newest products while educating the public through show seminars and exhibits. MHRV consists of manufacturers, dealers and vendor member organizations with an all-volunteer Board of Directors. MHRV produces The Great Seattle RV Show, The Grand Puyallup RV Show and The Seattle Fall RV Show. http://www.mhrvshows.com
About WSECU
WSECU is a member-owned credit union serving the people of Washington State. We combine a deep love for our state with exceptional personal service, lower fees and banking anywhere, anytime. The dollars our members deposit go right back into the community we're all a part of, helping fellow members build homes and go to college, creating more jobs and strengthening our local economy right here in Washington. By virtue of banking with us, our members create shared prosperity for themselves and their communities. Additional information is available at http://www.wsecu.org.