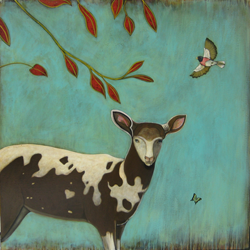 Both artists are celebrated for their depictions of natural settings
Santa Fe, NM (PRWEB) April 08, 2015
Two of Sorrel Sky Gallery's favorite women will be featured for May's First Friday Art Walk. Santa Fe, NM. artists Phyllis Stapler and Cynthia DeBolt will present a joint show of their latest paintings from 5-7:30 p.m. on May 1. Sorrel Sky is located at 125 W. Palace Ave.
Both artists are celebrated for their depictions of natural settings, though their representations are vastly different. Phyllis' signature style brings together often disparate members of the animal, plant and insect kingdoms while Cynthia is an unconventional landscape oil painter.
"I call them reductive landscapes," Cynthia said of her unique pieces, which will range in size from small 10-by-10-inch issues to 40-by-40. "I start with an idea, usually from a photo I've taken but I reduce it and reduce until it's just a small corner of what I started with. When I finish, in terms of composition, they come out as general images, not any specific mountains or locations, per se."
Oil and acrylic are Phyllis Stapler's paints of choice, and she'll have eight new creations for the Two-Woman Show. The largest is four feet square and the smallest is half that size. Phyllis' paintings are immediately recognizable as her own, and it's hard to view the creative pairings of flora and fauna without the word "whimsical" coming to mind. "I've got an odd-eyed puppy, a lucky pig, a lucky horse and a hairless dog," Phyllis said of her latest creations. Expect to have fun while appreciating her incredible talent.
The nature themed show will include more than 15 never-before-seen paintings and will remain on display through May. Stapler and DeBolt will show a concurrent exhibit during May at Sorrel Sky's Durango location.
First Fridays are held each month in Santa Fe and Sorrel Sky features one or more of its represented artists for each event. Sorrel Sky Gallery's fresh approach to Western art presents a select collection of contemporary and traditional fine art and jewelry for the discerning collector. Sorrel Sky Gallery was founded in Durango, CO in 2002 and opened its Santa Fe, NM location in 2014. It represents over 60 painters, sculptors and jewelers including bronze artist Star Liana York, painter Billy Schenck, and former U.S. Senator Ben Nighthorse, among others.