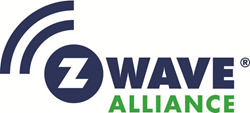 Today, 90% of the lifestyle security systems in North America, defined as smart alarm panels with connected smart devices (such as smart locks, lighting or thermostats) are powered by Z-Wave.
Milpitas, CA (PRWEB) April 07, 2015
The Z-Wave Alliance, an open consortium of leading global companies deploying Z-Wave, the world's largest ecosystem of wireless control products and services, will exhibit for the first time ever at ISC West, hosting a range of manufacturers in the Z-Wave Alliance Pavilion. With over 1300 certified products, 300 member companies and more than 35 million devices installed worldwide, Z-Wave continues to be the wireless technology of choice for the security and smart home markets.
"Though it is our first time exhibiting with a Z-Wave Alliance Pavilion at ISC West, the Z-Wave brand isn't a newcomer to the space," said Mark Walters, Z-Wave Alliance Chairman. "Manufacturers choose Z-Wave for their solutions time and time again because of its interoperability, as well as cost and ease of integration."
Z-Wave has seen 4 years of double-digit growth from the adoption of home control by the security industry. Today, 90% of the lifestyle security systems in North America, defined as smart alarm panels with connected smart devices (such as smart locks, lighting or thermostats) are powered by Z-Wave.
Z-Wave's dominance across the lifestyle security market will be highlighted by twenty-eight Alliance member companies exhibiting at ISC West, in addition to the nine member companies participating in the Z-Wave Alliance Pavilion. The pavilion exhibitors include:

Fibaro will demonstrate its smart home control reliability during its Mount Everest Challenge Powered By Z-Wave press event. More info on the event and the challenge can be found here.
MCO Home Technology is a dedicated Internet of Things OEM/ODM provider for security manufactures.
Aeon Labs designs door and water sensors, touch panels and smart window coverings to complement the digital smart home, save energy and increase protection.
SecureNet Tech creates a platform to simplify and expand the capabilities of central monitoring stations and security providers to add lifestyle services to their existing alarm transportation offerings and will be featuring the latest SmartLink end-user app, web portal and the all-new SmartTech technician app.
MiOS LTD will feature Vera Control, a MiOS company, who will introduce VeraSecure, a new Smarter Home Controller with a built-in Security Solution in addition to new security and video services to complement their new Smarter Home Controller line of products.
Telguard is one of America's largest security communication solutions delivering 24 hour wireless protection technology by transmitting full data from virtually all security and fire systems to central stations on Z-Wave protocol.
Enerwave, Inc, incorporates Z-Wave modules and energy saving devices to provide lighting control and home automation product innovations with advanced green energy efficiency in the field of automated lighting and electronic appliance control.
Radio Thermostat Company of America leads in home energy management solutions through creating an Internet-Controlled Thermostat to further the mission and help users save money on their energy bills by offering the best, most user-friendly, technology and tools available.
Z-Wave Products carries and supports all Z-Wave products and works with dealers, integrators and resellers to bring them devices that work within the wireless ecosystem.
Z-Wave is fully interoperable between all brands and is fully backward-compatible between versions. Z-Wave products are available direct to consumers through major retailers and e-tailers in the US and Europe and are featured by leading home security providers and telecommunications companies worldwide.
For more information on the Z-Wave Alliance, please visit http://z-wavealliance.org. Follow the Z-Wave Alliance on Facebook, Twitter and on LinkedIn.
About Z-Wave
Z-Wave technology and is an open internationally recognized ITU standard (G.9959). It is the leading wireless home control technology in the market today, with over 1300 certified interoperable products worldwide. Represented by the Z-Wave Alliance, and supported by more than 300 companies around the world, the standard is a key enabler of smart living solutions for home safety and security, energy, hospitality, office and light commercial applications.
Z-Wave® is a registered trademark of Sigma Designs (NASDAQ: SIGM) and its subsidiaries in the United States and other countries.
About the Z-Wave Alliance
Formed in January 2005, the Z-Wave Alliance is a consortium of leading companies in the home technology space dedicated to solidifying Z-Wave as the standard for wireless home control products. The principal members include; ADT, Evolve Guest Controls, FAKRO, Ingersoll Rand Nexia Intelligence LLC, Jasco Products, LG Uplus, Nortek Security & Control, SmartThings and Sigma Designs. Alliance members lead the home controls market, providing leading edge products and systems that deliver increased comfort, convenience, energy conservation, safety and security.