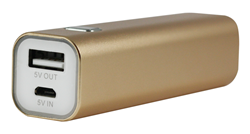 Los Angeles, CA (PRWEB) April 06, 2015
Los Angeles based Apelpi announces their all new charger, the Stem 2200 mAh.
Running out of power on a smartphone, tablet, or eReader is not ok when on the go and, with Apelpi, that worry is a thing of the past. The creator of the popular Apelpi Slim, Plus, and Luxe portable power devices has now added a new addition to their harvest—The Apelpi Stem Gold.
As a busy professional, entrepreneur or kid wrangler, time can be scarce. Running out of power on a smartphone or tablet these days is like turning off the power to the day. With Apelpi chargers, users can access calendars, make appointments, or find out about carpool while on the go.
Apelpi (pronounced apple pie) has many solutions to recharge batteries. Their newest addition, Apelpi Stem Gold is the perfect power source for the fashionista or tech addict who wants something small, stylish and powerful. Featuring a 2200 mAh portable external battery charge, the Stem will add up to 6 hours of talk time for long lasting power.
Apelpi Stem Gold is a powerhouse of features:
· Compact design means it will fit easily in a purse or pocket
· Lightweight so mobile users aren't held back by bulk
· Polished aluminum surface with a gold finish means fashion and function are at your fingertips
· Adds hours of productivity to your smartphone or tablet—up to 6 hours of talk time, 11 hours of video and 44 hours of music!
Adding an Apelpi Stem Gold charger to a purse or pocket is the best way to ensure those productive hours in the middle of a busy day. In other words, an Apelpi a day keeps lost time away.
Apelpi was founded in 2002 with a simple mission. Make powerful and stylish external battery chargers, a product that was missing in the marketplace. With a combined 20 years in the battery industry, power solutions, and portable consumer electronics, Apelpi provides outstanding products, dedicated service and uncompromising quality to their customers. With a goal of creating products their customers will love as much as they do, Apelpi is a leader in the tech accessory industry.
For more information visit http://www.apelpi.com or contact Chelsea(at)ChicBlvd(dot)com.
Contact:
ChicExecs PR
http://www.chicexecs.com
1487 Poinsettia Ave. Ste. 125
Vista, CA 92081
310.569.6586
ChicExecs PR is an "out of the box" PR company which represents over 70 clients. ChicExecs has created an innovative approach to PR dedicated to helping small-medium businesses receive media coverage. Our revolutionary automated system is changing the face of PR. To learn more about ChicExecs visit http://www.chicexecs.com.
If you would rather not receive future communications from Chicblvd Inc, let us know by clicking here.
Chicblvd Inc, 1487 poinsettia ave #125, Vista, CA 92081 United States