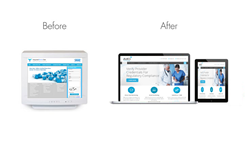 Geary LSF proposed the transition to iMD to better align with the foundational industry recognition that had been developed.
San Diego, CA (PRWEB) April 08, 2015
Continuing their trend of designing innovative and beautiful creative projects with a mobile-first mentality, digital marketing agency, Geary LSF, has announced their most recent client project launch, integratedmedicaldata.com. iMD was looking for an agency partner to execute a website redesign campaign that included rebranding of their outdated assets. Geary LSF's award-winning creative team was tasked with developing a visual, strategic and innovative website, that included all Search Engine Optimization elements, to enhance the overall user experience. The agency took an iterative and collaborative approach to ensure a superior finished product that achieved the marketing goals of the client.
From an aesthetic perspective, Geary LSF Art Director, Tim Borillo, and his team led the design, which focused on the integration of clean and modern assets. Starting with the company logo, Geary LSF proposed the transition to "iMD" from a branding perspective to better align with the foundational industry recognition that had previously been developed. "The digital-inspired treatment of the pixelated cross bug was introduced as we felt it related to both the healthcare and digital marketing industries that iMD specializes in", says Mr. Borillo. "Additionally, the highly collaborative approach we took with the client throughout the design process allowed for quick feedback, effective iteration and overall, helped make this project a success."
The mobile-responsive website redesign was built on the WordPress platform, allowing the client to move away from a legacy CMS that was severely outdated. The transition improved website functionality, user experience, and overall efficiency in making website updates moving forward. As part of the transition, the Geary LSF team also successfully migrated over 300 web pages to the new platform, performing all site redirects while maintaining legacy authority.
When asked about his experience working with the Geary LSF team on the website redesign project, iMD's CEO, Brandon Zink, had the following to say, "We couldn't be happier with the work (Geary LSF) has done over the last several months. It's been a pleasure and I look forward to working with them moving forward."
For more information on Geary LSF's creative and web development services, or to learn how a new brand website can enhance your digital marketing efforts, visit GearyLSF.com today or contact a digital marketing expert via email at sales(at)gearylsf(dot)com.
About Geary LSF
Geary LSF is a full service digital marketing agency headquartered in San Francisco, with additional offices in San Diego, Chicago, Boston, Philadelphia and St. Louis. Specializing in an omni-channel marketing approach, the team turns digital ambitions into business results for more than 450 brands worldwide including: Bumble Bee Foods, Target, Megapath, Aramark and several others. For more information, please visit http://www.gearylsf.com.
About Integrated Medical Data
Founded in 2010, iMD was created with the purpose of facilitating better communication between healthcare organizations and the providers and patients they serve. iMD provides marketing, sales, research, analytic, recruitment and compliance solutions to leaders in virtually every healthcare vertical. Learn more at integratedmedicaldata.com.