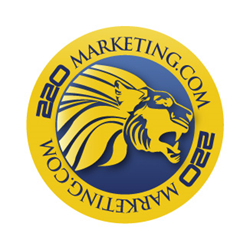 "San Diego I-Day is a great event for agents to attend. Not only do they get to network with some of San Diego's top producers, but the agents also leave the event with new knowledge..." – Kayla Barrett, Marketing Consultant
San Diego, Ca (PRWEB) April 07, 2015
220 Marketing is set to be in attendance at San Diego I-Day, which will take place on Wednesday, April 15th, 2015 at Town and Country Resort and Convention Center. All insurance agents are encouraged to attend this no-cost event.
Aside from enjoying several years of marketing success in the real estate and mortgage industries, 220 Marketing has excelled with its insurance marketing system. Highlighted by its unlimited marketing consulting available to all of its clients, 220 Marketing features lead-generating websites, referral marketing, e-newsletter integration and email blasting, which all provide strong support to every facet of an insurance business.
Located at booth #410, 220 Marketing will provide all in attendance an opportunity to witness the excellence of each of its products up close and personal via live demonstrations. The company will also have marketing consultants on hand to answer all questions, plus it will be raffling off a JBL Bluetooth speaker.
Presented by the San Diego Insurance Brokers and Agents Association, San Diego I-Day will begin with a continued education registration at 7am, with exhibits opening at 9:30am. A luncheon will take place at noon, followed by exhibits reopening from 1:30-4:30pm. Town and Country Resort and Convention Center is located at 500 Hotel Circle N, San Diego, CA, 92108. Be sure to register
"San Diego I-Day is a great event for agents to attend. Not only do they get to network with some of San Diego's top producers, but the agents also leave the event with new knowledge to help them bring in new policies." – Kayla Barrett, Marketing Consultant.