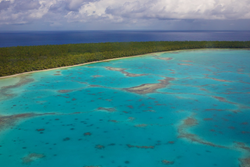 We have worked hard...to protect Tetiaroa's lagoon and now we are in a position to implement this exciting project that could have significant benefits locally, and could also aid in the development of similar programs around the world
Kirkland, WA (PRWEB) May 26, 2015
Tetiaroa Society, the nonprofit that brings scientists from around the world to research environmental issues on the Tahitian atoll of Tetiaroa in French Polynesia, announced today that the lagoon of Tetiaroa will be the focus of a scientific study to replenish its stocks of fish and crustaceans following support from Mission Blue and Biotherm.
The three-year project, led by Tetiaroa Society and the Moorea-based Insular Research Center and Environment Observatory (Le Centre De Recherches Insulaires Et Observatoire De L'environnement De Polynésie Française - CRIOBE), will commence in September and aims to provide a blueprint for the repopulation of lagoons and marine areas worldwide that have been depleted by overfishing.
Biotherm, a French luxury skincare company, has provided funding of €100,000 through its Water Lovers initiative supporting preservation of the Earth's waters and aquatic life, for researchers working in collaboration with local fishermen, to replenish fish and crustaceans in the protected Tetiaroa lagoon by deploying a method used successfully in aquariums and aquaculture.
"Replenishing Tetiaroa's lagoon has been a key objective of Tetiaroa Society since we were established and we are thrilled to receive support from Biotherm and Mission Blue to do so," said Stan Rowland, chairman of Tetiaroa Society. "We have worked hard with the government to protect Tetiaroa's lagoon and now we are in a position to implement this exciting project that could have significant benefits locally, and could also aid in the development of similar programs around the world."
Scientists plan to use the Post-larval Capture and Culture (PCC) method where fish and crustaceans are caught in the post-larval stage and reared safely in aquariums in Tetiaroa Society's Ecostation for periods of up to three months. Once their chance of survival is greatly increased, they will be released back into the lagoon. The final stage in this study is to disseminate the results and the learnings with local fishermen, schools, and the international scientific community.
Tetiaroa Society, also announced that it has become an official partner of Mission Blue, a global initiative of the Sylvia Earle Alliance to ignite support for a global network of marine protected areas designated as Hope Spots and to protect 20% of the ocean by 2020. The partnership sees Tetiaroa Society join more than 100 other ocean conservation groups and like-minded organizations in Mission Blue's worldwide network.
About Tetiaroa Society
Tetiaroa Society is a tax-exempt 501(c)(3) U.S. nonprofit organization dedicated to exploring innovative solutions to the world's most pressing issues relating to sustainable interdependence. Named after the atoll of Tetiaroa, French Polynesia, Tetiaroa Society supports conservation efforts aimed at developing the understanding of harmonious interactions between people and their surrounding ecosystems. Inspired by the late Marlon Brando's vision to preserve sanctuaries for future generations and raise awareness of the fragility of our environment, Tetiaroa Society was founded by Brando Enterprises, which owns the atoll, and Richard Bailey of Pacific Beachcomber, and is supported by high profile members of the international scientific and entertainment communities. As a site of high historical value, as well as rich scientific research opportunities, Tetiaroa Society plays a pivotal role in preserving local cultural interests on Tetiaroa and expanding the scientific lessons learned to create a farther-reaching and globally significant purpose.