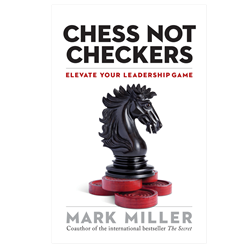 Atlanta, GA (PRWEB) April 07, 2015
Mark Miller, best-selling author with more than 600,000 copies of his books in print, today released "Chess Not Checkers," which shows leaders how to thrive in today's ever-increasing complex environment by playing chess, not checkers. In his latest book, Miller outlines how taking a chess approach to leadership enables an organization's management to marshal all available resources, including every employee, to strategically address challenges and opportunities.
"As an organization expands, leaders who continue to play checkers when the name of the game is chess lose. In today's increasingly complex environment, leaders can no longer just react. They must evolve with their organization and learn to think strategically, look ahead and leverage every employee's specific talents," says Miller, a sought-after national and international speaker on leadership. "Chess Not Checkers" outlines the four essential 'moves' from the game of chess that all high-performance organizations make. The book shows readers how to bet on leadership, act as one, win the heart and excel at execution.
In "Chess Not Checkers," Miller shows leaders how to stop reacting and become proactive in building a strong, sustainable business that achieves excellent results while staying agile and market-responsive.
Advanced praise for "Chess Not Checkers" is abundant, coming from business leaders worldwide, other best-selling authors and thought leaders.
-Chairman and CEO of The Coca-Cola Company Muhtar Kent says, "As our opportunities and challenges grow ever more complex, leadership has never been more valuable. With his creative and accessible new book, 'Chess Not Checkers,' Chick-fil-A's Mark Miller has successfully demystified the essence of modern leadership."
-President of Keller Williams Worldwide Chris Heller says, "Miller has distilled four powerful lessons to benefit leaders at all levels of their careers. The book is entertaining as a novel yet packs profound insights into what it means to lead and succeed in today's business world."
-Marshall Goldsmith, New York Times and global bestselling author of "What Got You Here Won't Get You There," says, "Don't let the highly absorbing story here fool you – 'Chess Not Checkers' is a truly fascinating and eminently practical guide to improving your organization's functionality and performance at all levels. Any leader looking to affect critical change will come away with a new understanding of what changes to make and how to make them!"
-President of Courageous Thinking, Inc. Linda Lindquist-Bishop says, "To excel as a high-performance leader, one must first think like a high-performance leader. Mark Miller does a brilliant job of outlining the critical shift leaders must make if they want to move from playing small and simple to succeeding in large, complex environments."
Available now at all major retailers including Amazon®, Barnes & Noble®, Hudson Booksellers, and 800-CEO-Read, Miller's "Chess Not Checkers" is based on a concept derived from his more than 30 years of business experience and the extensive research he conducted with high-performing organizations where he analyzed their best practices and strategies for getting and staying ahead.
"Chess, Not Checkers," published by Berrett-Koehler, includes more than 10 chapters with titles such as "The Decision," "Harder Than It Looks," and "Game On." For more information on "Chess Not Checkers," visit http://www.chessnotcheckers.com/.
About the Author
Mark Miller is a renowned leadership expert, global speaker and author or coauthor of five books including two with leadership expert Ken Blanchard. In addition to his books, he serves leaders through his blog: GreatLeadersServe.com. The site is rated as one of the top leadership blogs. Miller started his Chick-fil-A career working as an hourly team member and today serves as the vice president charged with leadership development for the organization. For more information on Miller, visit http://greatleadersserve.com/.
Chess Not Checkers
By Mark Miller
Berrett-Koehler
April 2015
Hardcover, $22.95; 144 pages
ISBN-10: 1609949609
ISBN-13: 978-1609949600