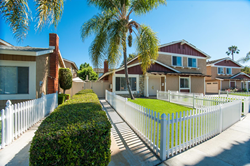 There are things we can control and things we can't control. We can't control the disease of addiction, but we can control our environment.
Anaheim, CA (PRWEB) April 28, 2015
The Anaheim Lighthouse is pleased to announce their $500,000 building improvement initiative. The Anaheim facility on Pearl Street has always created a wonderful atmosphere for recovery in a quiet family neighborhood. We are upgrading the entry ways, bathrooms, bedrooms, gardens and all amenities. The gardens and shady trees will be enhanced and continue provide tranquility after these improvements. The Serenity Prayer says, "God, Grant me the serenity to accept the things I cannot change the courage to change the things I can and the wisdom to know the difference." Anaheim Lighthouse knows the difference.
We create a positive environment of recovery with good food, caring staff and a great facility. What we need are family support and willing clients to make it all work. The Anaheim Lighthouse will continue to improve the environment to make it as conducive as possible to help people recover from the disease of alcoholism and addiction.
"In treating all aspects of a person – from physical health, to character and attitude, to connection with a higher power – we know the importance of a serene place to concentrate fully on recovery," said Tim Salyer, Esq., CEO. "We always have made our surroundings desirable and conducive to the process of learning new attitudes and ways of thinking. We provide an atmosphere that allows clients to meditate and examine their thoughts and behaviors, and we establish ourselves as good neighbors at the same time. We also recognize the value of having family members involved in the recovery process. Addiction is a disease that affects everyone in the family, not just the individual who is suffering from substance abuse. We want our clients and their families to feel safe and secure so they can work together in forming a new, stronger relationship with one another. Our program helps families break the cycle of addiction. Family members learn how to support their loved ones without enabling them. They learn how to take care of themselves and their own issues. Our pleasant setting provides a relaxing place where families can come on weekends to meet with others who are going through a similar experience. "
Reflecting on the Serenity Prayer, Peter Davidson, COO, adds, "There are things we can control and things we can't control. We can't control the disease of addiction, but we can control our environment. This is why we strive toward having a highly trained and engaging staff, wonderful nutritious food and investments in improving amenities."
About Anaheim Lighthouse
Anaheim Lighthouse offers drug and alcohol detox and residential treatment with outpatient and sober living services for men and women in a clean, safe, loving and structured environment. Situated in four buildings on a tranquil neighborhood street, Anaheim Lighthouse offers quality treatment in a setting designed to help people restore their physical, mental, emotional and spiritual well-being. Each building is licensed and accredited by the California Department of Alcohol and Drug Programs ("DADP"). The facility is also accredited by the Commission on Accreditation of Rehabilitation Facilities. Anaheim Lighthouse is dedicated to the highest standards of recovery from alcohol and drugs through offering evidence based addiction treatment and therapy to clients. For more information, visit http://anaheimlighthouse.com.