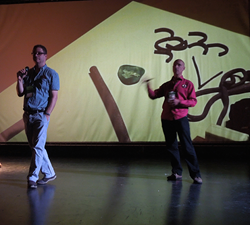 They bring a broad range of creative sensibilities to the body, unencumbered by the narrow view of what jewelry should be.- Marjorie Simon, Metalsmith
Santa Fe, New Mexico (PRWEB) April 10, 2015
This creative duo is no stranger to color. As painters, David Forlano and Steve Ford quickly found their medium in colorful polymer as the basis of their jewelry design work. Although they now work from two different cities, Philadelphia and Santa Fe, they continue their collaboration by sending work back and forth as it develops. The slide talk on June 26th in Santa Fe, NM is the second presentation of their "color chapters" as they have been evolving over the past twenty seven years of collaborating. This is a free lecture, open to the public, hosted by The New Mexico Museum of Art in the historic St. Francis Auditorium. The talk is presented as part of Santa Fe's "Summer of Color," where museums and galleries throughout the city will be in full bloom.
"Steve Ford and David Forlano's work represents, to me, the single most transformative influence in the world of polymer clay. They have ennobled a material relegated to preschools, and have developed a design vocabulary as deeply rooted in modern art as it is in craft." -Ulysses Dietz, Chief Curator, Newark Museum
In 1984, Steve Ford and David Forlano met as painting students at Temple's Tyler School of Art. In 1988 they began the collaborative contemporary jewelry design work that is currently known as FordForlano. "We started messing around with this new material and found we could get very interesting results. In the beginning, it was a way to make money to afford time to paint. Then, the jewelry really took over," says Steve Ford. The work of FordForlano is represented in prestigious galleries across the United States. Their work is currently in a dozen museum collections, including The Philadelphia Museum of Art, The Los Angeles County Museum, Museum of Art & Design in New York, The Museum of Fine Arts in Boston and The Newark Art Museum.
During the month of June, Patina Gallery in Santa Fe will be showing and selling a major collection of their most recent works. Patina is one of the most important galleries representing the work of FordForlano over the past 10 years. They represent an international selection of artists that appeals to a global network of collectors. Patina Gallery is the anchor destination in Santa Fe for contemporary jewelry.
Patina Gallery
131 West Palace Ave.
Santa Fe, New Mexico 87501
contact:
David Forlano
505.501.1052
david(at)fordforlano(dot)com
http://www.fordforlano.com