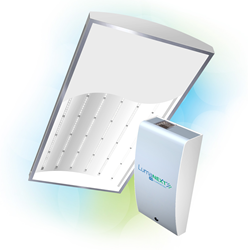 LumaNEXT Sytem Components
Allendale, NJ (PRWEB) April 08, 2015
LumaNEXT is marketed exclusively by the HS Illumination division of Henschel-Steinau.
LumaNEXT is a patent-pending, plug-and-play, low voltage LED illumination system that delivers value to retailers in multiple ways, including simplified installation and maintenance, improved lighting, energy efficiency, intelligent sensors for daylight harvesting, analytics and substantial savings. Centralized Power Stations connected to control devices that can be strategically located throughout a store to deliver 24 Volt DC current to as many as two-dozen system devices. These may include overhead solid state lighting, vertical graphic banner luminaires, suspended illuminated signs, illuminated perimeter wall displays, track lighting, and other back-lit merchandising displays.
LED Illumination with an Important Difference
Patty Pellegrin, Director of Marketing for Henschel-Steinau commented, "LumaNEXT is the first low voltage illumination solution that requires no transformer or ballast at the fixture level, streamlining installation and significantly reducing the need for costly, periodic maintenance. Plus, the system features a future-proof open architecture that enables system expansion and software updates." When compared to other LED lighting solutions, LumaNEXT can reduce operating costs associated with lighting by 25% or more.
Superior Quality Light and a Much "Greener" Bottom Line
LumaNEXT represents the highest quality engineering and construction in illumination. Troffers feature a proprietary diffusor lens, and special coatings by White Optics produce greater reflectivity to help create a pure, natural light for the shopping environment, which has been attributed to increased sales. LumaNEXT also reduces utility consumption by up to 75%, achieving substantially lower energy costs when compared to traditional lighting systems.
Solar Compatibility and Title 24 Compliant
LumaNEXT is solar power compatible with an integrated sensor option available for daylight harvesting and energy conservation. Its lighting control devices, luminaires, and system components, fully comply with the applicable requirements of Title 24 Section 110.9 of the California Building Energy Efficiency Standards for Residential and Non-Residential Buildings.
"Smart Analytics" for Optimum Performance
HS Illumination recently integrated smart sensor technology for real-time actionable data reporting on the system and its performances from Enlighted®, the world's most advanced digital sensor and analytics platform for smarter buildings. With this addition, light intensity within departments can be controlled, ambient light and temperature can be measured, and fixture outages and abnormal spikes in energy consumption are reported. Retailers also have the ability to analyze consumer foot traffic and shopping patterns, while setting brightness and energy output based on time of day to reduce energy use and associated energy costs.
From the Industry Leader in Retail Marketing
For over 55 years, Henschel-Steinau has successfully developed and introduced innovative solutions that improve both the shopper and retailer experience. Pellegrin comments, "The introduction of LumaNEXT is a natural extension of our company's mission to create impactful solutions for our retailer partners. Lighting plays an essential role in creating a successful retail environment and shopping experience. With LumaNEXT, we are bringing retailers another in-store solution that, like many Henschel-Steinau innovations, is designed to measurably improve performance and reduce costs, while increasing sales."
# # # #
About Henschel-Steinau
Headquartered in Allendale, NJ, Henschel-Steinau has been recognized as a best-in-class provider for retail marketing solutions in the point-of-sale and in-store marketing industry for more than 55 years. The company provides retail shelf merchandising systems, custom point-of-purchase displays, warehousing and fulfillment services to Fortune 100 consumer goods marketers and retailers. For more information about Henschel-Steinau retail marketing solutions, please visit http://www.hspop.com.
About HS Illumination
HS Illumination is a division of Henschel-Steinau, which markets LumaNEXT to retailers throughout North America. HS Illumination is staffed by experienced retail lighting experts responsible for the analysis, configuration, specification and installation of LumaNEXT illumination systems. For more information about LumaNEXT, please visit http://www.lumanext.com.
For additional press information, please contact:
Ilena Della Ventura
Delia Associates
T: 908-534-9044
idellaventura(at)delianet(dot)com