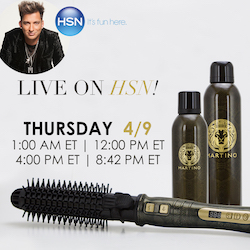 The Freestylist is the best thing we have ever done. - Martino Cartier
Shrewsbury, MA (PRWEB) April 08, 2015
Freestyle Systems is pleased to announce that the revolutionary Freestylist®, the company's hanging weightless blow dryer systems for hair salons, has been selected by Martino Cartier as part of the stage set for his HSN appearance, where he will be promoting his line of hair products, Martino by Martino Cartier. Martino is a celebrity stylist, owner of award winning beauty salons in New Jersey, and distributor of high-end hair products. His HSN set will replicate one of his salons, which features Freestyle Systems' hanging weightless blow dryers.
The Freestylist® is installed in all of his salons, contributing to the awards his salons have won, as well as a factor in his salons' continued success. He exudes enthusiasm about the Freestylist: "I love being able to bring to life, my salon experience, live on HSN! The inclusion of the Freestylist in my HSN set helps me share the salon environment with my HSN customers. The Freestylist keeps our salons nice and clean, and organized."
Martino insisted on having the Freestylist® be part of the HSN stage set to help convey his salons high end image. As he says, "Martino by Martino Cartier is for women who want salon quality, healthy hair. Martino by Martino Cartier provides innovative, professional quality styling products and tools with flair, making it easy to achieve any look - from smooth and sleek to windswept volume - empowering her to look and feel gorgeous.
Freestyle Systems is known for technology innovation in the beauty industry. In addition to the Freestylist, they are also a leader in salon lighting, designing the first LED lighting system specifically for salon use. To learn more about the company, visit http://www.FreestyleSystems.com.
HSN is a leading interactive retailer, offering a curated assortment of exclusive products and top brand names to its customers. Martino's next appearance on HSN is Thursday, April 9 at 1am, 12pm and 4pm ET as well as within HSN's Beauty Report from 7-9pm ET, along on April 9th. Shop Martino's line on HSN.com (keywords: Martino Cartier). For more information about the collection on HSN, join the conversation @HSN on Facebook, Twitter, Instagram and Pinterest.